If you could stop what you were doing right now and just escape for a relaxing time, where would you go and how would you do it? Maybe go somewhere where it's just you and wildlife. What about doing some of your favorite activities? Maybe you just want to be on the water and take everything in. Anything we can do to relax and allow ourselves to refresh is always a benefit. But when I heard that developer Better Than Life made a way not only to explore but race at multiple times of day with a variety of weather conditions, I had to learn more. So I reached out and co-founder, Leon van Oord was happy to talk about their latest game, Kayak VR: Mirage as well as talking about Virtual Reality.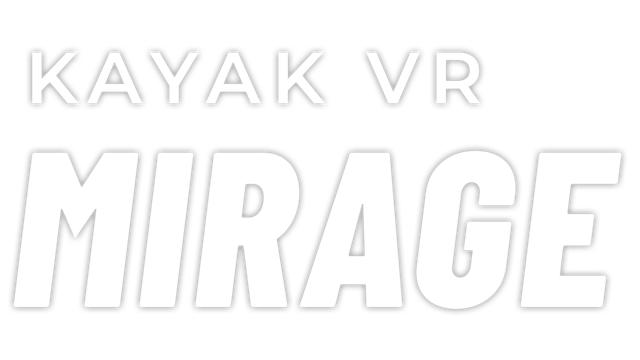 _____________________________________
Interview with the co-founder of Better Than Life, Leon van Oord
_____________________________________
Welcome to THE VR DIMENSION. Would you mind introducing yourself and what you do at Better Than Life Immersive Studio?
"I'm Leon van Oord, one of the founders of Better Than Life, we started our Amsterdam based studio a few years ago with Arend, a high school friend of mine, and his brother Jetse. Because we're so small we all wear a lot of hats over the course of development. I bounced between designing and lighting environments, sound design, creating the visual effects for the game, and cutting together our trailers. The same goes for my other colleagues, although we all have different areas of expertise so we really complement each other."
Growing up, what were some games that inspired you, and what was that one VR moment that made you really want to work more with Virtual Reality?
"I come from a more 'traditional' games background than the other two, Some of my favorite games growing up were Age of Empires, Tony Hawk's Pro Skater 2, Ocarina of Time, Tomb Raider 3, Counter-Strike, and stuff like that. My colleagues don't really actively play 'regular' games anymore which I think gives them an interesting perspective on VR.
In terms of a real crystalling VR moment, I think from the second I heard about the Oculus DK2 it just fascinated me, I played a few early tech demos that came out around that time that blew my mind."
Better Than Life has a really interesting portfolio with A Bigger Splash and Meditation VR. What was your inspiration for these projects and what are some of the different projects that you have been a part of that players may not be aware of?
"All three of us did not pursue something directly related to game development in college. So I think we wanted to get our feet wet by making something small in scope and showing it to museums. That's how A Bigger Splash was born in a few weeks, it's not really playable but I still look back fondly on the video we made for it. After that we graduated to something a little bigger in scope, Meditation VR was our first attempt at creating something that was high-fidelity and realistic. We spent months tweaking just this one environment, it drove us nuts. It was pretty niche (and free) though and we wanted to make something that captured some of that feeling but with more interactivity and exploration; that was how Kayak VR: Mirage came to be."
Your latest game Kayak VR: Mirage has been out for PCVR and is now coming to PlayStation VR2. What can you tell us about the game and the different modes?
"The concept is really quite simple, it's a kayaking simulator and racer made just for VR. The idea is that players can either explore the environment, with all the little details we put in. Or race against other players' ghosts through courses that are lightly inspired by Olympic kayaking. It's meant to be an experience anyone can pick up and play because paddling is so intuitive. It's not something to 'complete', but rather to boot up when you want to relax, and unwind but also get some exercise. Or every day if you want a serious workout and like to compete in the race mode! To make the game as accessible as possible we're even bringing a new mode to the game that just allows you to move along without the need to paddle, it's actually so great to be able to look up around you, I highly recommend the jungle starting point in Costa Rica at night-time."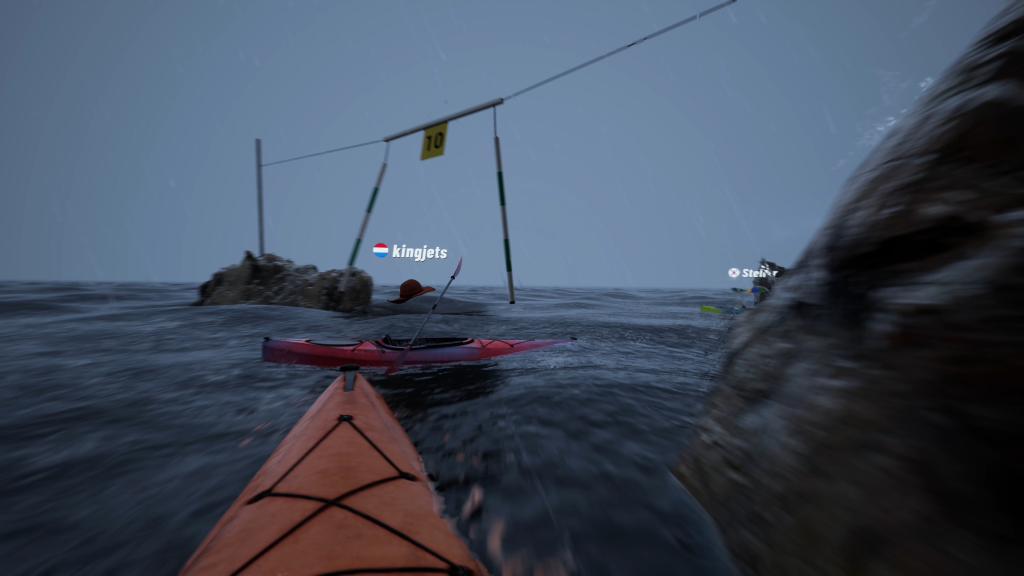 How many different locations are in the game?
"There are currently 4 locations in the game (5 if you include the pool that you start in). But all of them have weather conditions or different times of the day. The size of the environment varies but getting around the main island in Costa Rica should take you a good amount of time."
Since sea and wildlife are a big part of the design philosophy, what kind of animals can players expect to see, and are there any animals that will be making their appearance for the first time?
"We wanted to incorporate all kinds of life in the game, starting with fish of course. When you break the water they'll dart away from you, little details like that really help the immersion. But some of the more spectacular life you might encounter are whales and an orca."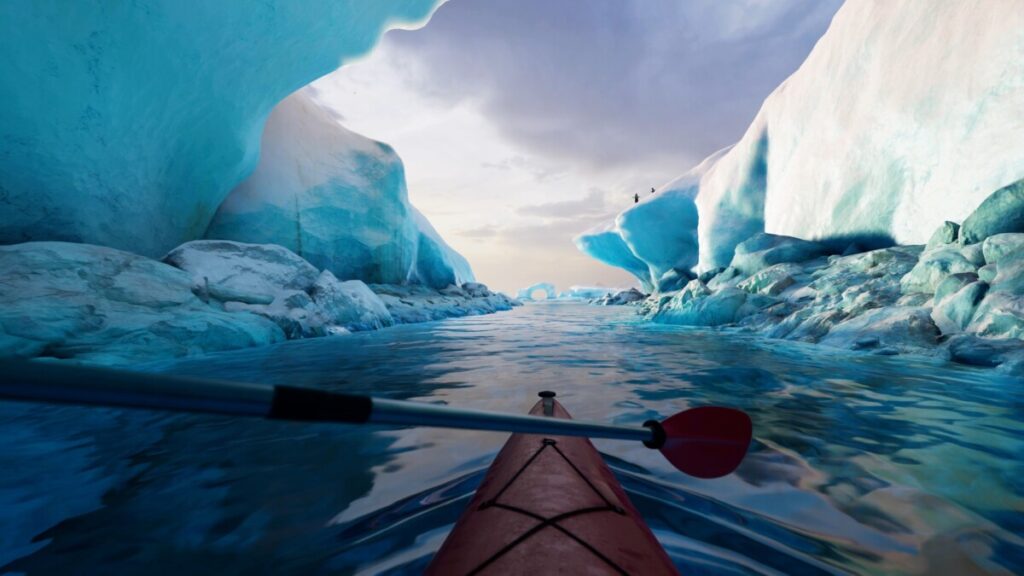 There was something you did special for Kayak VR: Mirage for Christmas. Can you tell us more about this and are there plans for future holiday content?
We wanted to do something fun for Christmas so we decided to do a little Kayak tournament with a small cash prize and a special version of our King's Canyon environment where you're racing Santa on his sleigh. It was fun to be able to break some of the realistic conventions of the game and play a little more with the concept. It will be returning for two months around Christmas time, and we might do something similar in the future."
Of course, the main concept of the game is kayaking. For those that may have not ever had the chance, what can you tell us about the game's physics and do you have any tips for players experiencing Kayak VR: Mirage for the first time?
"What surprised us a lot when we first started seeing people play the game was how dissimilar from real kayaking they tried to paddle, lots of rapid, rushed paddle movements that don't do much. The game really rewards deep, long strokes underwater, with a clean exit of the paddle from the water. There's a guide on YouTube from one of our Steam users who did a really great tutorial on how to go fast:"
How will the PSVR2's haptics be part of the experience when playing the game?
"After having been excited about our game in combination with the PS VR2 ever since getting our hands on it I'm just excited to hear people's thoughts. But most of all I think our environments at night-time really shine on the PS VR2, I hope people will give those a shot! And I think we ended up with a pretty cool implementation of haptics that I hope folks will appreciate."
Sound helps with the immersion in VR, did you tweak or adjust the sound to take advantage of the 3D audio and will there be a special mode for the Pulse 3D Wireless headset?
"The haptics is something I worked on and it was a really interesting challenge to tackle. We wanted every paddle stroke with the water to feel satisfying and more immersive than other previous headsets with simple haptics. For example, when you build up some speed and put your paddle in the water to turn and brake you'll really feel the water rushing past your paddle, we took some creative liberties here but it feels really satisfying in my opinion. I also worked on bespoke haptics for almost every environment, if you scrape your paddle on the metal ladders in the pool you'll feel something totally different from when you scrape over sand, rock, ice, etc."
Also, part of the immersion is the visuals. With PlayStation VR2 having 4K HDR and Foveated Rendering, how have used this to make Kayak VR: Mirage visually appealing?
"We revisited all environments and time of days to tweak them for PS VR2 specifically because they felt totally different initially, it's nice to know that everyone on PS VR2 has a similar experience, compared to Pimax / HP / Oculus / Valve headsets with radically different screens and calibration. The foveated rendering was actually a fairly smooth process to implement and it really helped us with performance."
Are there any plans for future environments and locations to be added?
"We'd definitely like to add more content to the game, porting it to PS VR2 has taken up most of our time until now so hopefully we can work on those in the coming months."
If you walked through the door into THE VR DIMENSION and could pick anyone from any time period to Kayak with and in any location, who and where would it be and why?
"This might be a bit obscure but I just watched a skateboarding doc on Heath Kirchart and he seems like such a friendly and interesting dude that I'm sure I'd have a good time :)."
With the library of VR continuing to grow, what would you say to someone as to why they should experience Kayak VR: Mirage?
"I think it's a unique experience that breaks the mold of most VR games out there, the game would not work on a flat screen and I think it shows the potential of these types of experiences as the technology advances. And we're just a small studio, there's still so much untapped potential for experiences that don't work in regular games but are compelling in VR."
I really want to thank Leon for taking the time out of his schedule and day to give us a closer look into Kayak VR: Mirage and for also talking about Virtual Reality.
Kayak VR: Mirage is out now for Steam VR, Viveport, and releases for PlayStation VR2 on February 22, 2023.
To learn more about Better Than Life, please visit the site, follow them on Twitter, follow them on Instagram, and subscribe to the YouTube channel.
In case you missed the trailer, please enjoy.