Kayaking can be an amazing time, not only for the sport but just to relax with the environment. It can give you a place to think as you see the night sky or just enjoy nature around you. And as we all seem to get busier with life, any chance to have that moment of escape, we should take it. But does the developer, Better Than Life, really allow us to take a more relaxing journey in a realistic way? Let's find out with Kayak VR: Mirage for the PlayStation VR2.
Kayak VR: Mirage is a jaw-dropping and exhilarating journey through beautiful and unique locations, tailor-made for Virtual Reality. Maneuver our fully physically accurate kayak around checkpoints and crown yourself the fastest, or take it easy and use the free roam mode for a leisurely trip and enjoy the scenery. So before you jump in your kayak and travel to Antarctica or Norway, there are a few things that you should know. First, have your favorite place to sit. You are going to be in a kayak, so might as well be as comfortable as possible. But you do get bonus points if you are sitting in an actual kayak. Second, as always, make sure those Sense controllers are charged. Do you really want to be going through the jungle only to not be able to move because you forgot to charge them? Normally, I would agree with this statement, but I'll explain more a little later on. And finally, just enjoy your time as you deserve it. With all that said…let's continue…

When you first start the game, you are on a pool with a pink flamingo float and windows that tempt you to just skip the tutorial. As tempting as it is, don't. Learn the basics. For many, this could be your first attempt being in a kayak, so do yourself a favor, and learn how to turn, how to lean, and more importantly, to go in circles as this will help you with your time. And you see in no time, that your technique will start improving and that you are, in fact, ready for an adventure.
Once you pass the tutorial, aka your training, it is time for you to decide what you would like to do. If you need to adjust your height or haptics, among other things, go into Settings. The Shop will allow you to change the skin of your kayak and paddles or you can get a new hat or even inflatables. There is nothing like having a big Orca inflatable floating around. If you are ready to paddle out, you have a few choices. You can take on Antarctica, Australia, Costa Rica, and Norway. You also have the choice of just sitting and going on a Tour, paddling during the day or night time in Free Roam, or even racing if you would like.
I decided to pick my first location and all I can say is WOW! Seeing the clarity of the water, the clouds in the sky, hearing the paddle touch the water, to even the sea life that I wanted to just reach out and touch. It was really a beautiful moment that I didn't even move that much because I was honestly taken aback by it all. But once I started moving, even if I got stuck at one point, somehow, I realized, the developers did it. They brought an escape that the only way to top this is to actually be in this location in person.
But it's just not the escape here, it's about the reality of that escape. Being able to visit Antarctica while the sun is just visibly coming through the sky as its beam of light directs me in the path that I need to go or paddle past the cliffs in Norway, this escape is not something to be taken for granted but embraced by the sheer beauty of it all.
If you would like a change of pace, you could always join in a race. When you race, you race against other players' ghosts to see how well you rank.

Let's talk about the graphics and sound. Graphically, all I can say is WOW. Everything just looks fantastic from the sky to the water. There were times when I saw fish in the water and I wanted to reach out and touch them to seeing sea life come out of the water is something that really needs to be experienced. As far as the sound, hearing every paddle stroke hit the water to have your paddle go across rocks, you hear and feel it. The gentle music just adds to the ambiance of it all and helps elevate that meditative state of mind.

If there is anything I would love to see added here is just more locations to tour, free roam, and race in. And that's really it, just more locations to get lost in.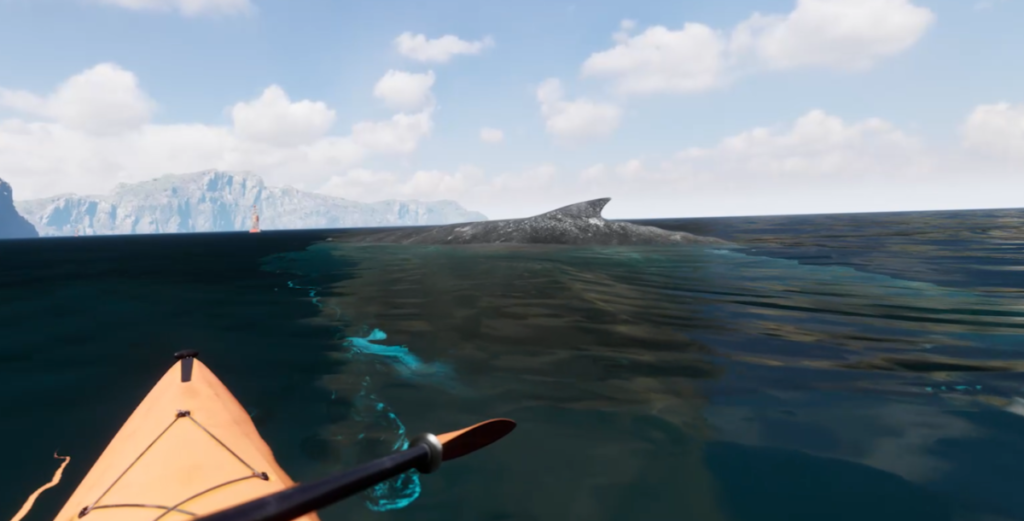 Kayak VR: Mirage brings more than just a relaxing time. It shows that not only is this one of the reasons to own a PlayStation VR2, but also feel and escape with it. It brings realism and this is something that should not be missed. There are so many places in the world that we may never get to visit in our own lifetime, but when those places can come to you in the best way, it means anything can be possible, and couldn't we all use a little more possibility at this point in our lives?
Kayak VR: Mirage is out now for PlayStation VR2, Steam VR, and Viveport. A review code was provided.
To learn more about Better Than Life, please visit the site, follow them on Twitter, follow them on Instagram, and subscribe to the YouTube channel.
Also, check out the Kayak VR: Mirage interview and the video review:
In case you missed the trailer, please enjoy. Until next time, I have a kayak to be on.