If you could race anywhere in the world, where would it be? What it be someplace exotic or would it be somewhere close to home? What kind of vehicle do you think you would be racing in? Something familiar or a new design that someone may have not even thought was possible? But what would you do if you could travel within a dimension of sorts? One that has a simple familiar vibe to it, but at the same time seemed as futuristic as possible but be able to shoot as you were racing? How do you think you would do? Would you even place in the top spots or is it something you would have to practice so you could become the excellence standard and define what a racer is? When you really think about it, there are many possibilities that could make racing in these types of environments even more thrilling. So when I heard that Entalto Studios was making a game where you could race, shoot, and dodge all the way to the finish line, I had to learn more. So I reached out and the CEO and Producer of Entalto Studios, Enrique Martinez, was happy to talk about their game, NeonHat, as well as talking about Virtual Reality.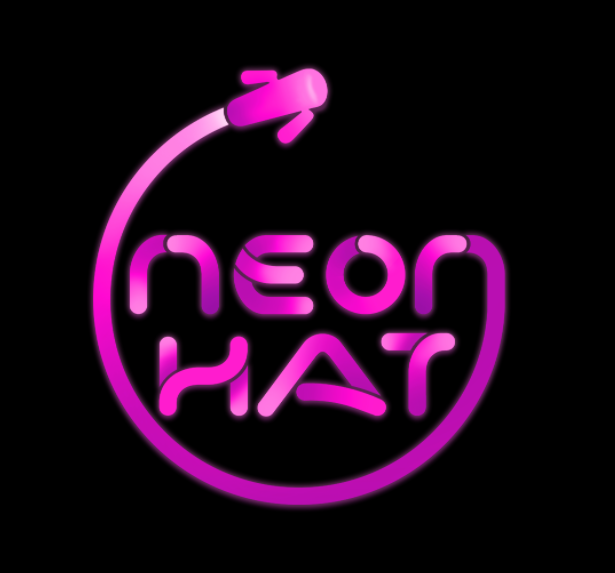 _____________________________________
CEO and Producer at Entalto Studios, Enrique Martinez
_____________________________________
Welcome to THE VR DIMENSION. Would you please introduce yourself and what you do with Entalto Studios?
"Thank you for having me; I'm Enrique Martínez, CEO and Producer at Entalto Studios. I'm in charge of the management of the company, in and out of the projects in development."
Growing up what were some of your favorite games and systems to play and what was that one VR experience that you knew you had to create something in Virtual Reality?
"I started playing video games at a very young age, I fondly remember the first device of my own; a GameBoy Color. Since then, I have played on almost every platform available, but if I have to pick a favorite, that would be the PC… I simply love strategy and management games. My first contact with VR was when I was in college, we were experimenting with the first VR helmets and had the opportunity to develop a small project. That's what got me hooked."
Entalto Studios' first game, NeonHat, was recently announced. What can you tell us about the game?
"NeonHat is first and foremost a VR racing game, in which the player can fly in first-person as if they were IronMan or SuperMan. But instead of taking to the skies of a metropolis, in NeonHat players travel through the depths of the 80s Internet, with a Synthwave aesthetic, reminiscent of the electronic music records of the time."
What can you tell us about the dodging and shooting mechanics of the game and what is the ultimate test of skill with the game's own 3D Maneuvering System?
"Unlike the usual "motion systems" present in other VR games, in NeonHat, the player has full control of direction and speed; no "point and click to move", no "on rails movement", just natural and intuitive movements. Once the player gets the hang of it, they are immersed in an experience to remember.
We are very proud of the system we developed, that has been tested with thousands of users in multitude of events, and we can soundly affirm that is completely free of motion sickness and dizziness. On top of all of these, the player can also shoot against the multiple threats the Net has to offer… and even other players as well (to slow them down and make them lose their course). "
So you really are competing against others in the global leaderboards?
"Yes, absolutely! After each "level" (race, pursuit, derby etc.) the score is uploaded in real time, and the players can see who's on top and try to dethrone them."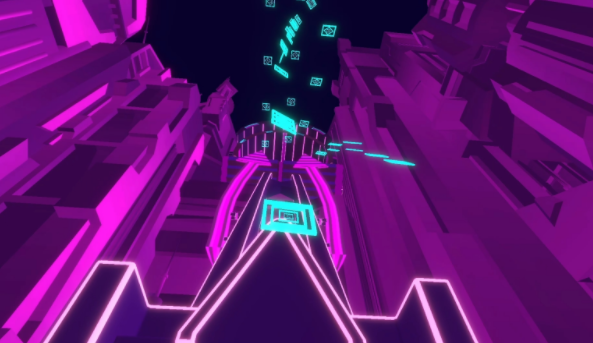 How many levels are planned for release and are there any more planned for the future?
"In NeonHat, the players will be able to experience 10 different tracks, each one of them with a unique aesthetic, in a variety of different game modes and difficulties. There are also gigantic boss fights, but let those remain a secret for now! Depending on how well the game performs, sales-wise, we may return to the question of adding more content along the way."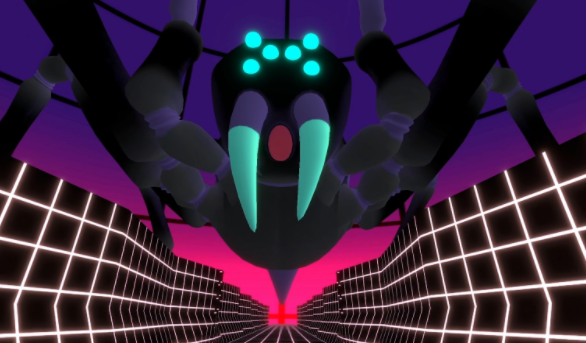 Some people who may be new to Virtual Reality or who may have played, but not on a regular basis may be prone to motion sickness. Has anything been updated with the game to counteract or eliminate any type of motion sickness?
"Yes! As I said before, our "Flight Manoeuvring System" is completely free of motion sickness, but for those with a very sensitive "perception" we also implemented a variety of options to customize the experience, such as the "Cockpit View"; instead of flying in a "first-person" perspective, with the "Cockpit View" enabled, the player finds themselves inside of the HAT System (the "drone" the player's control), and this way there is always a point of reference, and the brain is "tricked" enough to cancel the motion sickness."
I really do like how the game is all in neon colors and you can tell how this is going to pop in VR. Was the game always going to have neon or did the game have a different look and title in the beginning?
"Funny thing is… the name of the game has been the same since the absolute beginning! We never ever thought of another one, it just sounded right. But of course, the game has "suffered" a lot of changes during development, however, the neon aesthetic has remained, also, since we started working on it."
Graphics and sound bring a balance to the immersion for Virtual Reality. What have you learned about making the graphics and sound as immersive of an experience as possible?
"I think is all about the 3D Soundscape, really. Our BSO is very catchy, originally composed and arranged by Joakym Camps, and puts you right in the mood for another race after you've finished the last one, but every other sound effect has also to work towards the immersion."
What have you found to be the most challenging when creating NeonHat for PlayStation VR?
"Honestly, the PlayTesting! When you're developing a "conventional" game, where you don't need to put a headset on and "exercise" to play, things tend to go far smoother than with VR. Testing days were tiring, VERY tiring, as you can see!"
Trophies are something players look forward to collecting. What are some of your favorite trophies in the game and what is the rarest of the rare of the trophies to try and collect?
"As someone that is always up for a challenge, I think my favorite trophies are the "Golden" variants for the bosses because they make you approach the fight in a very different way, you have to be more cautious, quicker, even. And about the rarest trophy; without revealing too much, I will just say that you'll have to be "gentle" with the developers to obtain it!"
Are there any plans to bring NeonHat to other platforms such as Oculus, Steam, or Viveport in the future?
"Absolutely. We have a timed exclusivity with PlayStation, but after that, we plan to bring NeonHat to as many platforms as possible."
If you walked through a door and somehow landed in the NeonHat world and could never escape, but you could be anyone from any time period, who would you be and how do you think that person from that time period would do in the game?
"Okay, don't judge me, but I would love to be Blackbeard, the legendary pirate, always coursing through the neon seas, raiding other vessels with my data cannons and whatnot… maybe that's an idea to pin to the wall for the future!"
Do we have a release date for the game?
"Very, very soon! Q3, that's all I can say."

With the VR content continuing to grow, what would you say to someone as to why they should experience NeonHat?
"Since the dawn of time, we have always dreamed about flying free, without wings, without limitations… we created Superman as this kind of "perfect reflection" of the human condition, knowing that we could never do as he does, conquering the skies just like that… in NeonHat we offer the players that feeling; the liberation from the ground, and the thrilling sensation of competing to see who's the fastest in a medium never experienced like this before."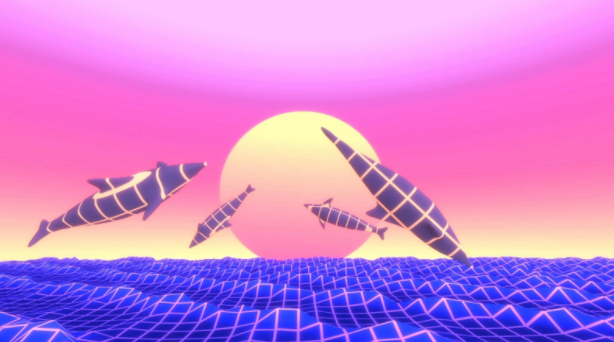 I really want to thank Enrique for taking the time out of his day and to give us a closer look at NeonHat as well as talking about Virtual Reality.
NeonHat is coming to PlayStation VR on July 29, 2021.
Also, check out the NeonHat review.
To learn more about Entalto Studios, please visit their site, follow them on Twitter, follow them on Instagram, and subscribe to their YouTube channel.
In case you missed the trailer, please enjoy.