Ninjas are perceived as mysterious, quick, agile, dedicated, and spiritual. They are part of an elite force that you may never see coming. But regardless of the movies, stories, or games, ninjas always have had this sense of focus that I have always admired and wondered if I had the training, what it would be like to unleash that ninja from within. So does Developer Coinflip Studios shows us what it's like to become a ninja when the action is coming at you from all sides? Let's find out with Ninja Legends for the PlayStation VR.
Ninja Legends is a wave-based melee combat arcade game where you play as an unstoppable ninja who is a master at weaponry and knows how to slice and dice the enemies as they come at you in different directions in hopes that no matter what or who comes at you, that you paid attention throughout your ninja training. So with that said, make sure your Move controllers are fully charged and make sure you have space to move because you will be swinging, slicing, and dicing and you really do not want to hit anything or anyone around you.
When you first start Ninja Legends you are asked some important questions that your decision may just have an impact on your playing. Are you left or right-handed and are you ok with blood? Once you have determined your dominant hand (it just might be fun to play with the non-dominate hand) and that you are or are not ok with blood, it's time to proceed to the training. And this is not some hard training that you have to go through, but basically, Coinflip Studios wants to make sure you know how to handle the weapons as they want you to succeed at not only getting through each of the minimal story chapter goals but have some fun while doing it. When you are ready, it's time to select your skill and get out there and fight.
One of the things that I noticed with Ninja Legends is there is no need to have to move from the center of your playing area and as long as you (and others) know where the boundaries are, everything should be ok. But what you will start to notice when playing in the different levels is there are a variety of other ninjas that will attack. Some will just come at you, some will throw objects that you will have to keep hitting and hopefully, not have another enemy or enemies come at you while you are trying to hit those objects, to even floating heads. But it may not be as simple as one or two enemies, but it could be multiple all around you and that is part of the fun of it all. Not knowing who or what may come your way and hopefully you have selected the correct weapon (more on weapons in a few) to take on whatever challenges may come your way.
But it's not all going to be just of the mill normal enemies who are out to make a name for themselves, but you will have to deal with bosses as well and this is when you may want to do some stretching before hand and slice and swing like nothing else. After each chapter, you are given your leaderboard stats, which is a nice touch and makes you want to go back and knock off whomever is above you to prove your ninja excellence. But it's not only the leaderboards and how you rank, but the ability to unlock new weapons which before proceeding, gives you the option to go in for a tutorial for that weapon which is also a very nice touch.
But I think what really makes Ninja Legends shine other than so show off your quick reflexes and offense and defense moves, are the weapons. You have quite a few selection of ninja weapons which I don't want to spoil them all for you, but you also have the Shadow Skill Abilities such as the energy blast or the bow and arrow (among others). As you attack, you have a level indicator that is separated by numbers that once you fill up on of the gages, you are able to use your Shadow Skill. So with the bow and arrow for example, if you let the level fill up all the way, you can essentially shoot three arrows and the great thing about the bow and arrow is it slows down time so you can get that shot that counts. And when I say shot that counts, just like your ninja weapons, you can hit anywhere and you never know what may come off from a limb to part of the face and it really is pretty awesome in Virtual Reality. But I will say that my favorite weapon that I love using are the claws. I mean, once you have these you will feel like Wolverine and the Black Panther combined and became the ultimate Mighty Morphin Power Ranger.
Not only do you get the Story Mode, but also other modes to select from. In Endless Mode where you fight against endless enemies that become stronger the longer you last, you also have daily challenges, Archery Defense where you must use your bow to defeat as many enemies as possible, an Archery Target mode where you become the best with the bow as you can, and also unlockables to discover.
Let's talk about the graphics and sound for a moment. I really do like how the lighting from the sun allows the shadows from the trees to really pop. But then it would be very simple to have the same type of sun shining when you are on top of the building for example, but not here, it's almost like the sun is setting to prepare you for that nighttime fighting. Seeing the blood spew with the sunset just has this poetic justice that should put a smile on your face. Each chapter has its own distinguished sound with this Japanese tone really compliments everything.
There are some things that I would see added into Ninja Legends. For one would be an online PvP with leaderboards. Being able to attack each other online would be some additional fun to be had. Another addition I would love to see added is more chapters and locations and even more weapons. Like, get into even more traditional Japanese weapons like the Kusarigama, Kama, or even the Chigriki just for the fun of it and to see how powerful they can really be here. If not here, then possibly a sequel could be made. This is me just saying what I would like and yes, a sequel to Ninja Legends would be awesome and if that was to become a reality and could even for the most unlockables of unlockables to add the Teenage Mutant Ninja Turtles and never forget to add the claws…never forget the claws.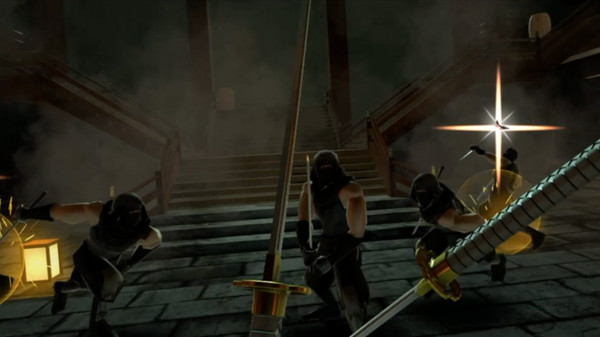 Ninja Legends gives us an ability to unleash our inner ninja and defend our honor at a time in the world where our not only our honor, but our sanity is challenged more now than ever. It allows us to not only challenge ourselves daily but aim for that place on the leaderboards for our name to shine as well as for others even if it may be for a brief moment in time.
Ninja Legends is out now on Playstation VR, Oculus Rift/Rift S and Oculus Quest/Quest 2 on the Oculus Store, Steam, and Viveport. The physical edition of Ninja Legends for PlayStation VR is available on the Perp Games Store. A review code was provided.
To learn more about Coinflip Studios, please visit their site, like them on Facebook, follow them on Twitter, follow them on Instagram, and subscribe to their YouTube channel.
To learn more about Perp Games, please visit their site, like them on Facebook, follow them on Twitter, follow them on Instagram, join their Discord, and subscribe to their YouTube channel.
In case you missed the trailer, please enjoy. Until next time, I have more unlockables to unlock and leaderboards to climb.