Magic has always been essential in storytelling from the movies to games. There is just something about being able to have the ability to cast spells for protection as well as trying to battle against enemies. There is something about dueling against others with this sense of power and satisfaction that draws towards it all. But do developer Cortopia Studios and publisher Beyond Frames Entertainment bring the magic and fun of casting spells in battle? Let's find out with Wands Alliances for the Quest 2.
Wands Alliances is a competitive multiplayer shooter game of intense magic duals and combat where you will play in teams of 3v3 and try to master the tactical aspects of teleportation and spell customization to become the most powerful Wielder of them all. So before you go in trying to cast all your spells without understanding the true power of the magic, there are a few things to be aware of. First, you will want to have some room as you try and cast your way to complete and ultimate power. Second, since this is a game of 3v3, communication can be your ally. So don't be afraid to turn on those mics. Third, make sure your controllers are charged as you don't want to be casting that one spell you have been waiting to cast only to have your controllers die. And finally, have some fun. With that said, let's continue…
Stepping into the world of Wands Alliances will make you want to get right into battle but like any good wand user, patience and guidance are key, so the first thing you hear is a very pleasant welcome. Now, you do have a couple of different things you can do here. You can look at the current leaderboards and see who might be facing in the future, which I find is always a good motivation to have. I would suggest that you mess with the settings to adjust your height, audio, and language. You also can practice different spells in the gallery, but to really get a feel of everything, start with the tutorial which is broken down into different stages from casting spells to arming and disarming the Omega.
The movement is something to get used to as you will be moving to different lanterns, which once you start to learn the maps, can be a good advantage to have. Casting spells is pretty straightforward. Each wand in your hand can hold two different spells. But keep in mind, once you first a spell, there will be a certain amount of time that needs to pass in order for that spell to build up enough charge to use it again.
Once you get through the tutorial, it's time to get into the action, but first, you must select one of the three classes from a dealer, tank, or healer, with six total characters to unlock as well as equipping the different spells. New spells will unlock as you level up. Spells vary in what they can do such as shooting fireballs to some of my favorites, are Wrath of the Storm which creatins a storm on a lantern that shoots 3 bolts of lightning one after the other, and Veil of Sand which creates a cloud of sand that can be seen out of, but not into. Once you have everything ready (don't forget to try out the cards that you earn in the hub so you can see what you like the best), it's time to get into the real fun with multiplayer.
Right now, there are only 3 maps to play on. You have the smaller map, but with plenty of lanterns to travel around, The Rookery.
There is the converted train stating where taking the high ground may just have what you need to make those vertical attacks, The Gateway.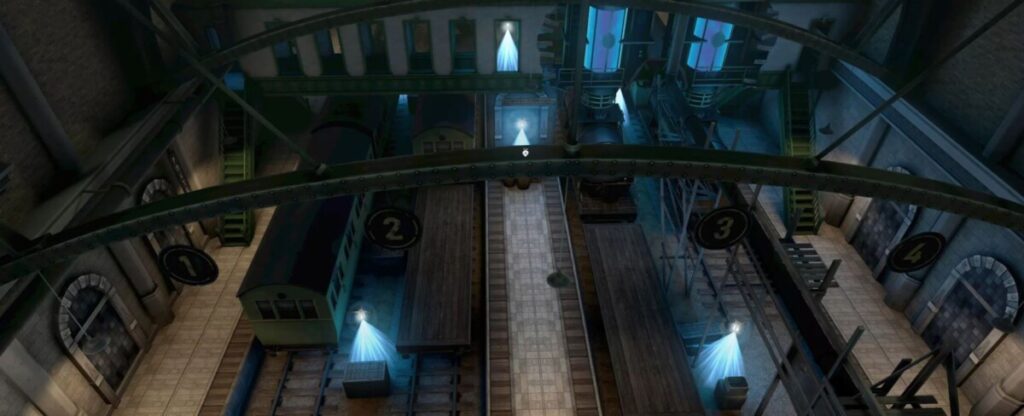 And then there is the larger map, where depending on the spells and the distance of the lanterns, may not always work as well as you might hope, The Maetropolis.
Now, it's not just running around trying to cast your spell on the other players until your team is victorious. I mean, it is, but there is an objective. During each match, one team attacks, and the other team defends. On each map, there are two locations that the attacking team is trying to get to so that the Omega Device can be planted. The other team is trying to defend these locations by and spells in your arsenal that you may have. So keep in mind what the objective is, work together, and try to become that master Wielder, if you think you can.
But remember, this is about the battle of the spells against others. Not only will you have to move, but ducking and covering will come in helpful as well. Just try to keep in mind that when you are focusing on the other team's players, the other team could have another player to move around to get the spot where they can make you be out for that round. So again, communication can be very helpful. Also, keep in mind that even if there are not enough live players, the AI gets in the game to make sure the action and fun keep happening.
Let's talk about the graphics and sound. The atmosphere is very clear and full of detail. When I was traveling between lanterns, each spot had me just looking at the small details, which quickly become interrupted by someone trying to throw a fireball at me or some other spell that I wanted for myself. And seeing how the lighting was used differently on each of the maps, just added to the feel of this Victorian London. The sound from traveling to casting spells sounds like fireworks and weather going on all at the same time which, when you are in the action and trying to figure out where everything is coming from, really adds to the chaos and mayhem going on.
There are a few things that I would love to see added or updated. For one, the movement. I don't mind traveling from lantern to lantern, I just wish there were different options of movement such as rotating. It just takes getting used to. Second, would be more maps and classes. I do enjoy the map, but just wish some new ones would get added soon. As far as the characters go, having even more added or a way for players to customize their own character would be a welcomed addition. And finally, adding challenges and rewards. This is coming soon, I just wish is it now.
Wands Alliance allows us to battle in a fantasy world using spells and magic. It allows us to battle with random people while bringing a world that will make you want to stay and live out your Wielder dreams all while having a common interest with each other that can easily form a special bond of friendship. In life, we sometimes concentrate on ourselves too much without taking the time to get to know others. If we spend all our time in a hurry and about only ourselves, then we could end up missing something that could truly be worthwhile. And couldn't we all use a little more worthwhileness in our lives?
Wands Alliance is out now for the Quest 2 on the Oculus Store. A review code was provide.
To learn more about Beyond Frames Entertainment, please visit their site, like them on Facebook, and follow them on Twitter. To learn more about Cortopia Studios, please visit their site, like them on Facebook, follow them on Twitter, follow them on Instagram, and subscribe to their YouTube channel.
In case you missed the trailer, please enjoy. Until next time, I have more spells to unlock and leaderboards to try and climb.