If you were to take a trip on the water, where would you go? Would you plan for every scenario possible that you could think of? What about food, water, or even shelter from the weather? I am sure we can all agree that we would do whatever we could to prepare for whatever situation may come our way. But what if that one thought didn't cross our minds, the act of being lost on the water without any way of communication? Would you start to panic and think about the worse case of horror or would you still have a positive outlook on life and hopefully end up on some type of land? We may never be in these situations, but it's something to think about with the thought of what if. So when I heard that developer, Moolion Games made a game where one is lost on the water only to drift to a mysterious island that has a forbidden history and secrets as you have to make it through a house, I wanted to know more. So I reached out and one of the creators, Moataz, was happy to talk about their game, Wardwell House and Virtual Reality.


_____________________________________
Interview with Moataz, one of the creators of Moolion Games
_____________________________________
Welcome to THE VR DIMENSION. Would you please introduce yourself and what you do at Moolion Games?
"Hi there, my name is Moataz and I'm one of the creators at Moolion (the other one being my brother Tanveer)."
Growing up what were some of the games that inspired you and what was that one VR moment that you knew you had to create something in VR?
"Some of the games that were inspirations for this game were the original Resident Evil games on PS1 and PT more recently. Resident Evil 7 on PSVR really blew us away and that was the moment that we thought that we should focus on the horror genre in VR."
Your game, Wardwell House, has been released for non-VR, but now is receiving the VR treatment. For those that are not aware, what can you tell us about the game?
"Wardwell House is a game made from actual 360-degree photos. I would categorize it as a short point-&-click horror adventure with a strong sense of atmosphere and back-story. The actual photographs give the game a more realistic feel than typical horror games."
One of the things that really stuck out to me from watching the trailer is the atmosphere and everything is in black and white which is a perfect setting for a horror game. What can you tell us about it?
"We actually experimented with several styles and color filters before landing on black & white. There is something mysterious and unnerving about black & white as we learned from watching some Hitchcock movies."
Horror and VR have a perfect partnership in the way that jump scares can be implemented as part of the immersion. Are there a lot of jump scares scattered throughout the game?
"There aren't that many since we purposely avoided jump scares in favor of creating an unsettling, scary atmosphere throughout the experience. We feel that creating a dark mood through the whole game stays under the player's skin for longer rather than a quick jump scare."
For the VR version, was there anything that you added to make sure the game is as immersive as possible?
"Yes, one thing we used for the VR version was full-resolution HD photographs so that it is more immersive and clear than the desktop version. We also edited the texts in the whole game to make them shorter and more concise."
Without giving away too much, what can you tell us about the house?
"It's an obscure historic house somewhere on the East Coast of the USA. It is not popular or well-known but it sure has a lot of character."
Does the forest play an important part in the story?
"It doesn't play a huge role in the story but it does create a dark mood and atmosphere."
What can you tell us about some of the clues and artifacts within the game?
"Just that players should read them carefully because the clues tell the full back story of the events that took place in this house and family."
Has there been anything that really surprised you with working in VR that you didn't expect?
"We were surprised how accessible and easy it was to port the game to VR considering how new the tech still is."
Sound and graphics really help make the immersion in VR. How much fun was it trying to get the different sounds of the game and were there any of them that you still wish you could perfect even more?
"This was one of the most fun aspects during development and the sound design plays an important role in creating the atmosphere of this game. For the VR version, we perfected a couple of sounds to give a scarier feel."
What are the top three things that you wish you knew when working with VR?
"1) That the new headsets have really improved the motion sickness problem that plagued previous headset versions.
2) That it's quite easy to make VR games because the game development tools have really improved.
3) That the audience is so large."
Do you see Wardwell House coming to other platforms such as PlayStation VR or Viveport in the future and are there any plans for a sequel or maybe a prequel?
"The game is coming to many headsets that Steam supports such as Valve Index, HTC Vive, and all Oculus headsets. We will definitely think of a sequel or prequel based on the response from players."
If you entered a door into THE VR DIMENSION, but could never return, who would be the one person throughout history you would want to travel with into the Wardwell House and why?
"I'm not sure who I would go with but it definitely won't be with the main protagonist of this game because he makes some pretty terrible decisions!"
With the content for VR continuing to grow, what would you say to someone as to why they should experience Wardwell House?
"Players should try Wardwell House because it is different from any other horror experience. I don't think there is any other game made from real photos and the game has a deep back-story. Many reviewers of the desktop version said that it's the best horror game they've played and that it leaves an uncomfortable feeling even when the game ends. Especially for the VR version, you will actually feel that you are inside the house."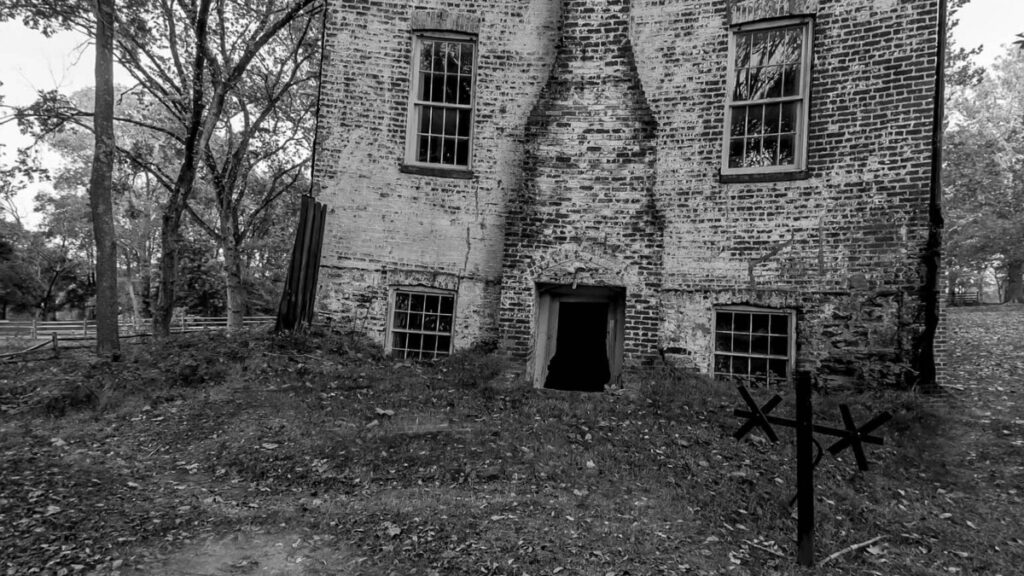 I really want to thank Moataz for taking time out of their day and to give us a closer look into Wardell House as well as talking about Virtual Reality.
Also, check out the Wardwell House review.
In case you missed the trailer, please enjoy.