Halloween is shortly upon us and when you think about your Halloween traditions, what comes to mind? Haunted houses, trick or treating or what about scary movies. Some may say pumpkin patches or Halloween parties. All of those are great traditions for so many reasons for so many people. But because of the pandemic, some of our traditions might have to be altered in one way or another. But what if the horror was just a door away? What if that horror could immerse you so you wouldn't have to leave the safety of your home, but once you step into the world, that door slams behind you just waiting for you to take the next step forward. When you think about it, Virtual Reality can take us to many places both safe and well, not so safe. It can invite us even when the will is strong, but the curiosity is stronger. So when I heard that Bloober Team was bringing The Blair Witch Oculus Quest Edition to the Oculus Quest and Oculus Quest 2, I really had to know more. So I reached out and Szymon Erdmański was happy to talk about bringing their game to the Oculus Quest as well as talking about Virtual Reality.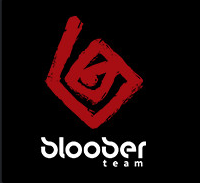 _____________________________________
Interview with Product Manager, Szymon Erdmański
_____________________________________
Welcome to THE VR DIMENSION. Can you please introduce yourself and what you do at Bloober Team?
"Szymon Erdmański – I'm Project Manager at Bloober Team"
For those who may be aware, Bloober Team has been responsible for some awesome titles such as Layers of Fear, Layers of Fear 2, and Observer. What have some of the games that you have worked on that players may not be aware of?
"I worked on Blair Witch and am currently working on the cyberpunk psychological horror Observer: System Redux. Bloober Team is also working on The Medium."
At the end of 2019, Blair Witch was released with some very positive feedback. But now it is being brought into Virtual Reality on the Oculus Quest with The Blair Witch Oculus Quest Edition. What was the idea of bringing the world of Blair Witch into Virtual Reality?
"Bringing Blair Witch to Oculus Quest was a natural and obvious step, VR is a perfect match for a horror experience like Blair Witch. With the immersive experience, Oculus Quest goggles deliver, we believe the platform is even more suitable for a psychological horror game than traditional platforms like PC or consoles.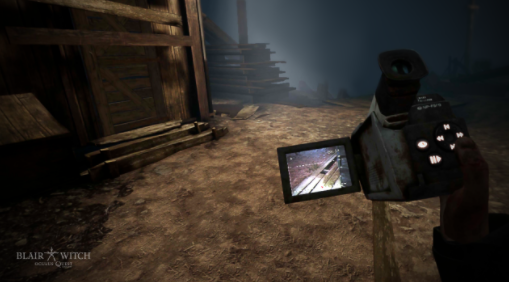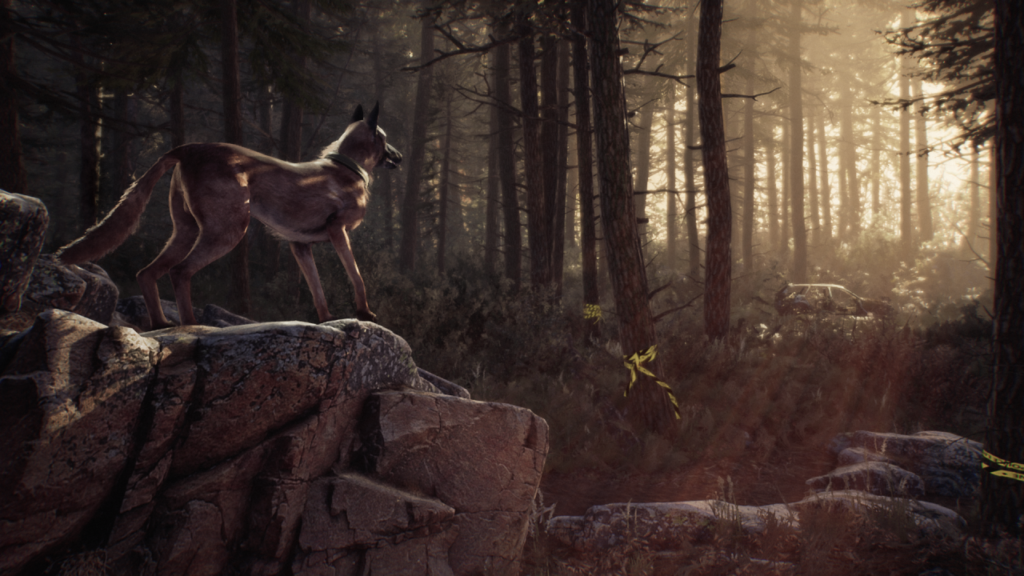 For those who may not be sure, where does this Blair Witch fit in with the movies?
"Oculus Quest Blair Witch loosely follows the 2016 movie plot."
Will there be any tie-ins to the movies that the fans can expect?
"Our game is set in the Blair Witch universe, but this is our own story. The lore, places, events, and characters are all connected to what Blair Witch fans already hold true, but we focus on telling a new story set in this universe."
Besides being in VR, what can players expect with the Blair Witch Oculus Quest Edition that might be new with this edition?
"The most important difference is all the added interactions you can have with your dog Bullet. In the Oculus Quest version of Blair Witch, you can pet your dog, grab his paw and play with him using VR controllers almost like you would with a real dog in real life.
All the levels were redesigned and streamlined for VR to optimize the experience, but one of our favorite new features is playing fetch with Bullet. You can grab a stick and throw it to Bullet for him to bring them back to you. Throughout the game, there are many interactive objects for you to play with, grab, and throw such as bottles, cans, sticks, and more."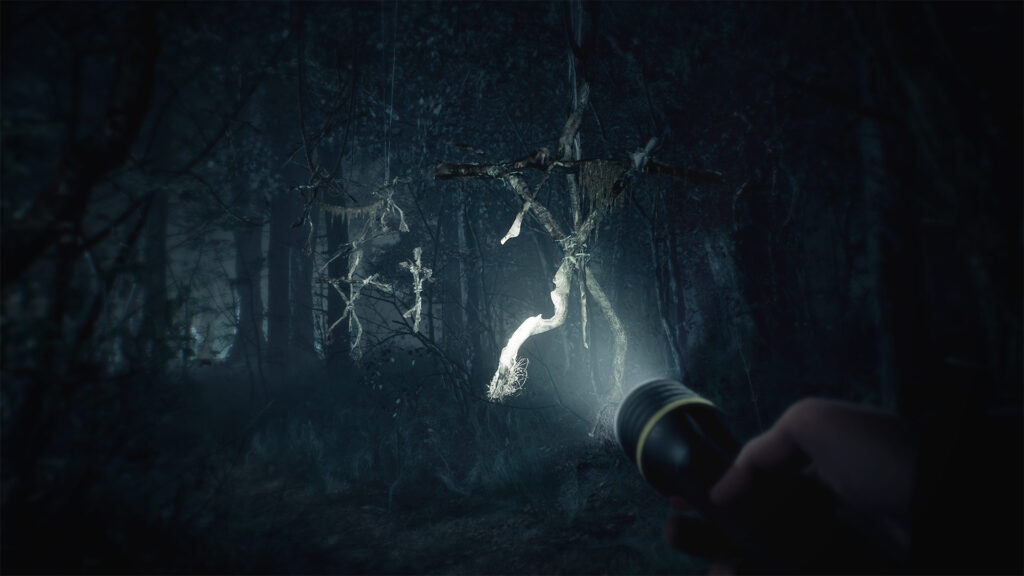 So you can really pet your dog Bullet in the game?
"es, you can play with him almost like with a real dog, he will fetch, give his paw and react to petting. Bullet is very important for the game and a lot of work was done to make him as real as possible."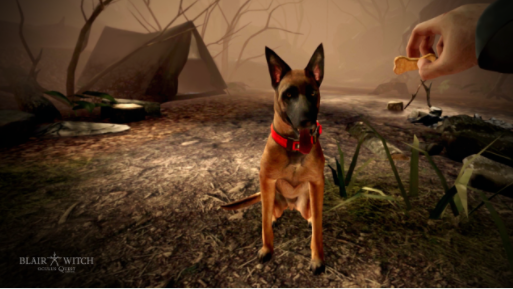 Horror and Virtual Reality has this special kind of relationship of how it welcomes the player in and then shuts the door to everything else they know. Some players scream, some players yell, and some players may quit due to the fear. How does Blair Witch Oculus Quest Edtion treat players when it comes to the horror that you could not imagine in a non-VR way?
"VR is the perfect platform for psychological horror and we're using it to bring our version of Blair Witch to its full potential. The game is pretty scary on a psychological level, and our work to redesign game mechanics and levels for VR really helps add to the immersion. We believe the Oculus Quest version is the most intense Blair Witch game so far."
What have you found to be the most interesting things about Virtual Reality when developing for it?
"Developing for VR and especially Oculus Quest is very challenging on many different levels. Firstly you need to change your developer mindset completely for VR because it's such a different gaming experience. What works well on traditional platforms will not work in VR and vice versa. You have to basically forget all your traditional game design experience and start over. Fortunately, since the original Blair Witch was not a traditional game to start with, we were able to redesign it to make it more VR friendly and improve with more interactivity with Bullet and the environment.
Secondly, Oculus Quest proved to be a very demanding platform from a technical standpoint. Creating the open woods environment was a task that at first seemed to be outright impossible. Due to smart design, we believe we have delivered an authentic horror experience that still looks great on what is performance-wise, basically a mobile platform."
Was there any one thing or a few things that after you tested it, did not make it into the Quest edition because it turned out to be too scary?
"No, quite contrary, we added a bunch of jumpscares and sound effects to make the experience as intense as possible. We did change the accents in the game a little bit though. The original game had the feeling of being lost in the woods. We found that frustrating in the VR environment compared to the original game, so we streamlined levels to remove pointless wandering around."
When it comes to immersion, sound along with visuals are important. What is the most surprising to you when it came to developing for the Oculus Quest and the Oculus Quest 2?
"Working with Oculus Quest performance limitations turned out to be extremely difficult, especially when you consider that the original Blair Witch had lots of dense, lush foliage. We had to scrap the original level design and rebuild levels from scratch to deliver an authentic woods experience within the performance limitations of the platform. From that standpoint Blair Witch: Oculus Quest Edition is a completely new game and it shouldn't be directly compared to PC/console versions."
Did you find during the tests that more people were turning around because of noises they thought or actually heard?
"Sound effects are a very important part of why the game is so intense. And yes, we noticed people react."
What do you think will be the most surprising to players when they step into the Blair Witch Oculus Quest Edition?
"That they may have problems deciding what is their biggest friend, bullet or flashlight."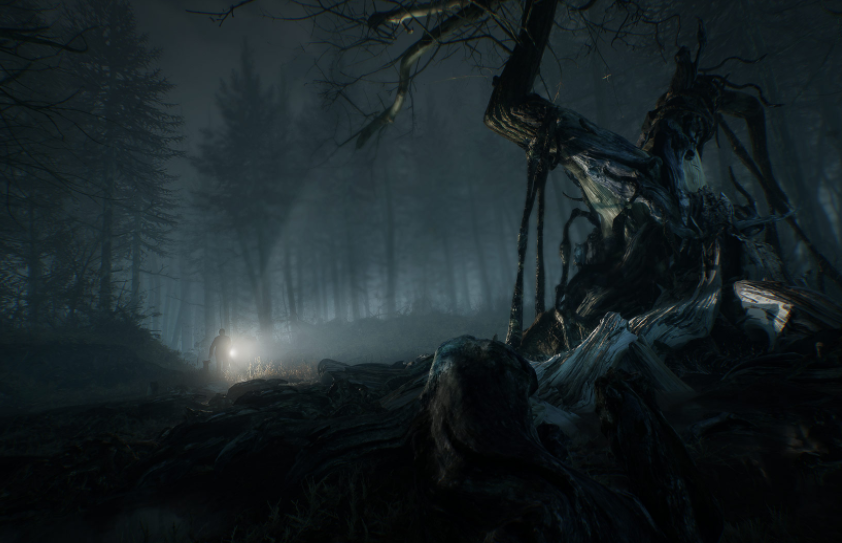 If you could tell your younger self three things, what would they be?
"Work hard and play hard. Get Oculus Quest for the second."
Any chance that Blair Witch could be coming to other VR headsets in the future such as PlayStation VR?
"Definitely, there are plans for both PSVR and PCVR."
When will Blair Witch Oculus Quest Edition be available?
"Halloween 2020."
With the library of games growing for Virtual Reality, what would you say to someone who is looking or maybe just now getting the Oculus Quest 2 of why they should experience Blair Witch Oculus Quest Edition?
"Blair Witch: Oculus Quest Edition has a bunch of unique features, firstly the interaction with your dog Bullet, there is just no other VR game where you can do that to such extent. Secondly the sheer horror of being alone at night in the woods, with just a flashlight and a bunch of monsters lurking in the dark. There is definitely no other game like that on Oculus Quest."
I really want to thank Szymon from Bloober Team for taking time out of their day and give us a closer insight into Blair Witch Oculus Quest Edition and also about Virtual Reality.
To learn more about Bloober Team, please visit their site, like them on Facebook, follow them on Twitter, and subscribe to their YouTube channel.
Blair Witch Oculus Quest Edition releases on the Oculus Store on October 29, 2020.
Also, check out the Blair Witch Oculus Quest Edition review.
In case you missed the trailer, please enjoy…