If you were a new student, how well do you think you would do overall? Would the classes be super hard or do you think you could pass them with flying colors? Do you think you would fit in or would you stand back some just to get a feel of everything? Being a new student can be tough. New people you meet, the interactions with them, and even how you present yourself can be a real test of character. So does developer Owlchemy Labs show us what it's like to be a new student in a different place? Let's find out with Cosmonious High for the Quest 2.
Cosmonious High is an out-of-this-world VR experience with Owlchemy Labs' hallmark interactive and distinctive humor. A place where you will meet a colorful cast, adapt outrageous powers, and discover the source of the cosmic chaos. So before you try to rule the school, there are a couple of things to know. First, find your favorite place to sit. You can stand if you want, but you might as well be comfortable while you are having fun. Second, don't overthink anything. Part of the experience is interacting with everything you can. Third, make sure those controllers are fully charged. And finally, just get ready to laugh and have some fun. With all that said, let's continue…
When you first start the game, you are welcomed to Cosmonious High as its newest Prismi student. But before anything, you must go through the new student protocol where you will need to pick out your id, some items, such as a backpack and glasses (make sure you check yourself out in the mirror) and once you're happy with your look, it's onto the bus. But this not going to be your normal ride unfortunately as you have now crash-landed and thus the start of some of the chaos you will encounter.
But you are the new student, the cool kid, and you have everything under control because you have powers. Well, you start off with a simple power with water, so any fire you come across, be sure to do the right thing and put the fire out. No need to have the school burn down on your first day is there? But being the new student, you can't really speak, so in any communication, you will have you will need to use speech bubbles. And doing so could not be more simple. Just put your hand in front of your mouth and pull and that's it.
Besides communicating, you can interact with the other students and staff by doing things like waving and high fives. It really allows you to get in there and try to be one with the school. But being a school, it's not just about putting out fires, but you do have classes you will need to attend. In the beginning, there are Chemosphy and Visualetics. Each class will have different assignments for you to complete and things to interact with. In Chemosphy for example, you will be able to mix things such as liquids. Really anything goes here as there is a collider that once is operational, feel free to throw anything you want into it. But remember safety first.
As you move around the school, you do start to interact with more students and teachers and will have tasks that you will want to try and complete such as helping Blort with their secret, taking pictures of the students and teachers for the yearbook, and even trying to find all the different Blebs throughout the school and try to earn additional credits as some of the classrooms require a certain amount of credits to enter. As you try to complete these tasks, complete the different assignments, and meet new students, you will start to gather new powers or abilities to help complete these tasks. Powers such as water and ice come in handy when you need to put out a fire and make things grow or help seal something up. But it's always fun when you do gain a new power, especially here in VR.
Let's talk about the graphics and sound. Graphically, Cosmonious High is very colorful and just welcomes you with open arms. The times you gain new powers or abilities and seeing it in VR just really is like its own little show where I could not wait to find my next power/ability. From the students that you meet to the objects that you interact with to even, everything just has this feel and look that will bring a smile to your face. Sound also is something that is matched as well. When you interact with the students and teachers and hear them speak that doesn't sound like someone is just reading, but giving emotion just like a high school student would be just engaging and made me want to hear what everyone had to say.
If there is anything I would love to see added. For one, I would love to have seen even more challenges and quests within the game. Don't get me wrong, there is plenty here, but it would be fun to have even more challenges to do and more quests to take on for even more credits to earn. Some classrooms take quite a few credits to be able to enter. Second, the controls. You do teleport and it works. But an option for free movement would be nice for those that like options. And finally, I do hope there will be a surprise DLC in the future for Cosmoious High. The reason being is that this is a school and to meet more students and to go on different quests or possibly in return, welcome the next new student would be really fun.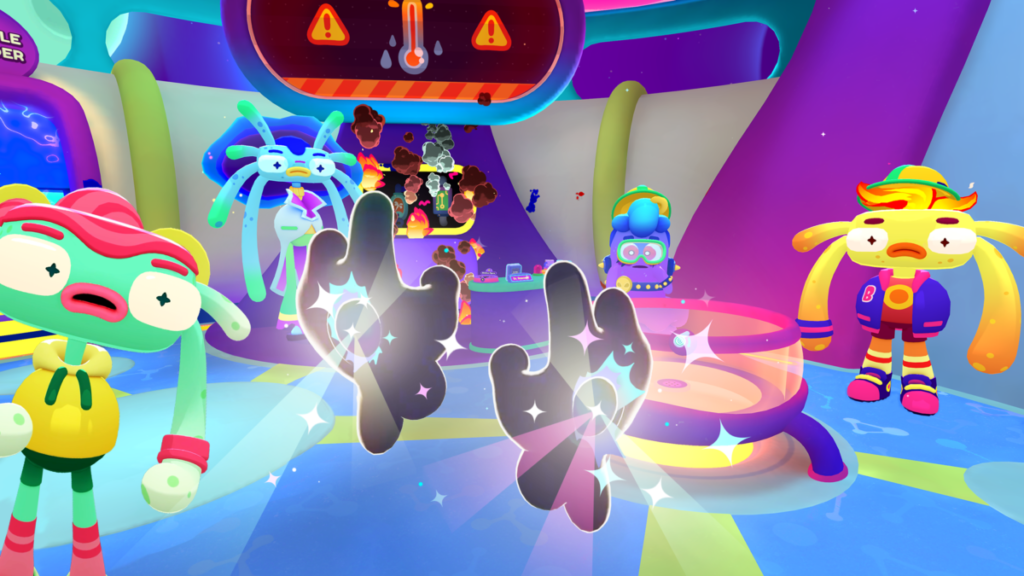 Cosmonious High has plenty to do if you don't want to just try to complete the story. You can have fun in the music class, paint the room in Visualetics, and even make some food. The amount of time that you want to interact with everything and everyone is all up to you and that really is part of the fun of it all. It shows that being the new kid doesn't always have to be hard. Sometimes when people that have been around for a while just may need to see a different side of things in order to see what's special in something new. If we are too used to something, then we may not be able to learn how to improve on it. And couldn't we all use some improvement in one way or another?
Cosmonious High is out now for Quest 2 on the Oculus Store and Steam VR. A review code was provided.
To learn more about Owlchemy Labs, please visit their site, like them on Facebook, follow them on Twitter, follow them on Instagram, join their Discord, and subscribe to their YouTube channel.
In case you missed the trailer, please enjoy. Until next time, I need to go collect some of the Blebs I missed.