One thing that can be really fun in Virtual Reality is racing. Single-player racing against AI can be fun, but then after some time, you almost need to have the multiplayer aspect to keep the fun going. But if there is one thing that really can get the engines going is if you add some drifting, some power-ups, and the ability to customize basically everything. So does Developer MOTIONX Studio bring all the elements of racing in VR? Let's find out with Dash Dash World for the Oculus Rift S.
Dash Dash World is a racing game where you will be drifting, using power-ups, and overall just to be honest, losing your time in this game. Before you get out on the track and start racing only to have that top spot and then lose it at the last few seconds that happened to me on more than one occasion (I promise I am not bitter, but some of you racers out there, your top racing spots are numbered). So now that I got that out of my system at least for now, let's continue.
You have never raced in VR, you might want to take it a little easy because if the game doesn't deal with motion sickness correctly, it could be a bad time. But luckily, MOTIONX STUDIO took the time by adding an option for turning on Visual Assistant to reduce motion sickness. So just know your limits before going in and all will be good. For those that are prone to motion sickness, you probably wouldn't need the assistance, but it's nice to have for those that do.
Once you start for the first time, you are immediately allowed to customize your character basics. More on customization in a few. (I do want to apologize as my screen was just a little off-center when I first started recording).
I would suggest that you do go through the training as it does give you the basics you need from steering, drifting, and of course, using the weapons such as the frying pan where you can hit at the other racers, the energy drinks and pills that give you some serious boost, oil to add those oil slicks, guns, and even bees (trust me, the bees are no fun, with more that I will let you discover on your own.
Immediately, the controls felt right. Steering is done with the left analog stick and braking is done with the same stick by pressing down and drifting is done with the left trigger of the Touch Controller. Boost is done by hitting A on the right Touch Controller as well as running over blocks to gain those weapons and then having to grab them and use them accordingly. And for those left-handed players out there, just go in the options and everything will be just the way you will like it.
To really get your feet wet, go with the story mode as you will need to get to a certain level before you can unlock the extreme tracks to race on. For some reason, the actual comic book story that it shows in VR, would not pick up in the streaming. But each race has a story for each of the characters that all want to win that big race and you start to see the different type of personalities that they each have. But it's a way for you to build up your career with different objectives and achievements to complete.
But the real fun is the multiplayer races, events, and tournaments that happen. There is the Pro Racing Mode where if you are a serious racer, this is where you will go as you will want to pay attention to those drifts around those corners and turns as well as knowing how to use the weapons because of every second count. If you want to see how you are doing across the world, then you will want to pay attention to the online leaderboard. But one of the things that I really enjoy is the events that run for a period of time. These events allow for new rewards and surprises each time you race. Online racing is a blast, but don't worry, there is not falling off the track here. If you take too much of that turn or get hit, you will simply hit the side and you will just have to do your best to get to the top spot before that third lap. The only time I had a problem after I hit the wall is I got turned around and started to go backward as II was trying to get back to the normal direction. But I had to test something. I had to see if it would be possible to hit other cars if you were going in the opposite direction. I am sad to say, that you cannot. As much fun as that would be, it just wasn't there.
Earlier I mentioned customization and Dash Dash World just keeps giving with its rewards and the ability to earn new prizes. If you want to customize your hair, your outfit, the wheels on your car, the sound of your horn, the seats you are sitting in, or even memify your race with personalized animated and voiced emotes and memes, it's there for you to make it your own. But it's all not just going to be unlocked for you as that would be too easy. You will need to race and earn your way to be able to unlock those rewards. There really are over one trillion combinations to be earned through playing, joining the online tournaments, and other surprises that just may show up if you know where to look.
Let's look at the graphics for a moment. Everything really pops and is colorful from the different items and rewards that you earn where you can customize yourself and car to even the tracks themselves. I think my favorite track is Ideon Grotto as there is just something about seeing all the colors like it's a dance party and having those lasers come at you in VR really put a smile on my face.
When I was playing I was also listening for the different sounds. From when you boost to brake to the different weapons you use and add that with each track just sounds and feels like it's own world to race in, really is not only nice on the eyes, but the ears as well.
I was going to add that I would love to see more tracks especially holiday ones such as Halloween or Christmas and even earn special rewards just for that holiday. But because the developers keep adding I am sure more will come and in fact, they just released their newest track that I now can't wait to go and try so thank you for this.
So if there is one thing I would love to see now, it would be the ability for the players to create their own tracks and upload it so that way there would be an unlimited amount of tracks to race on. Even add the ability to vote and the top votes have the tracks stay. With Dash Dash World coming to Steam and then PlayStation VR in Q1 of 2021 when you add all the cross-play multiplayer action that will happen, there is going to be something for everyone.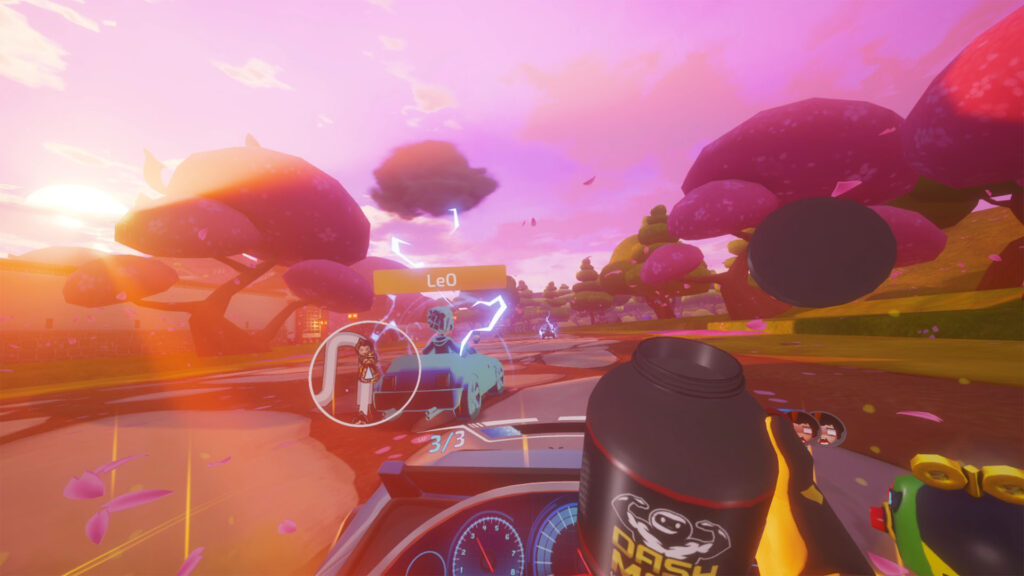 Dash Dash World has everything you would want from a racer from the customization to the fun of multiplayer to the special events. It's a game that just keeps giving and allowing you to have the thrill of the race while just smiling and forgetting the troubled world around us. And couldn't we all use a lot more fun as we all just try to get to that finish line in life?
Dash Dash World is out now on the Oculus Rift/S and Oculus Quest/2 with cross-buy on the Oculus Store and will be coming soon to Steam on December 24, 2020, and PlayStation VR. A review code was provided.
To learn more about Dash Dash World, please visit the site, like them on Facebook, follow them on Twitter, follow them on Instagram, and subscribe to their YouTube channel.
To learn more about MOTIONX STUDIO, please visit their site and like them on Facebook.
In case you missed the trailer, please enjoy. Until next time, I have more rewards to unlock so I can customize even more, a leaderboard to climb, and some online races to race in.