When there is a sequel to a favorite movie, book, or even game, what are your first thoughts? Is it you hope it will be good, maybe it's I hope they don't mess up what worked or possibly even that you have an automatic preconceived notion that you will not like it for whatever reason? All of these are valid thoughts to have and there even could be more such as will it be better than the original. So does developer, Turbo Button shows us what a sequel should be like? Let's find out with Floor Plan 2 for the Oculus Rift/Rift S, Oculus Quest/Quest 2, and PCVR.
Floor Plan 2 is a comedy adventure inspired by the escape rooms and packed with even more puzzles that one could fit in an elevator. So before we get started, I will say you will need just a little bit of room, make sure your controllers are fully charged, again, you don't want to be in the middle of trying to solve puzzles when one or both controllers do not work because you forgot to change the batteries and then the jokes on you as you have to stop what you are doing to change them out, so don't be that person, be proactive in your VR journeys. I will also say, that I will not spoil any of the puzzle solutions as that is part of the fun of trying to figure things out. With that said let's continue.
In Floor Plan 2, it is your first day of work and you want to make the best impression that you can. So one thing you will notice right from the start is that Floor Plan 2 does not spend all its time in an elevator which is a nice change. Not saying that Floor Plan is not fun, it is, but not having to in the elevator the entire time is just a different, refreshing take for this sequel. So as you enter your new working place, Puzzl, you will notice that the other employees do not speak your language, but lucky for you, you know how to read what they are saying. Otherwise, there could be this whole entire miscommunication and things could call for an HR trip real quick. But as you are given your first task, it really is more of a tutorial of how things will work with Floor Plan 2.
So don't worry if you get a little stuck from time to time as there is a help button that will have someone give you a suggestion of what to try in hopes to make you think just a little bit. It's ok to ask for help every now and then, really it is. But as we get finally get to see our new boss, we learn that they want you to find different items within the building that will help save the company, and thus and you must take the first elevator in the East Towers. So this is where you really get that home feeling that one might be used to with Floor Plan. But again, here, the elevator is used in the more traditional way of elevators as it will take you to different floors. Each of the floors allows you to get out and teleport around to certain locations of that floor and try to solve the puzzles for that location. But in order to solve the puzzles, it will require you to move to the different floors to find certain items needed to be able to do certain things in order to ultimately find the solution to solve the puzzles.
But here in Floor Plan 2, you will notice some things that are different is that one, you have arms that you can use to interact with objects and items. You also have pants that you can store up to three items at a time so you do not have to carry items from one floor to the next as for example, you may not be able to carry an item past the metal detector where the security guard is located, so you may need to go to a different floor in order to put something in your pants. There will be times early on where in the restroom that can be rotated, you will need to rotate it the right way in order to open the window to drop an item that is on another floor so that you can get past the metal detector so the security guard will not stop you. This is in no way telling what items you will be using, but a suggestion of what you may want to try in order to progress to find the artifact of the East Towers so that you can then make a good impression for your new boss.
Throughout the game, you may come across some little critters called Red Harrys that are fun just to try and find that you will need to drop in the chute in the elevator so that they can be returned safely. This does add some reply value in case you did not find them all your first go around. When you do find the artifact of the East Towers, you have a mission that allows you to go to the West Towers where there are more floors and puzzles do increase in difficulty. Again, don't be afraid to use the help button in the elevator if you need to.
Let's talk about the graphics and sound. Floor Plan 2 improves graphically over Floor Plan in almost every way. Turbo Button has found a way to make things pop on each of the levels and really make each of the floors its own world that makes you want to get out and explore it all. When you add the sounds that come alive with the music that is distinctly represented by the visual counterparts, it really does elevate the whole package.
There were just a few things that I hope get adjusted in future updates. For one, when an item would be on the floor, there were times where it seemed more difficult to try and pick up than really needed. You can move your hand over the item in just the right way and it would highlight it instead of just lighting up if your hand was near the item like it could be. I was playing sitting down it seemed like on one level at the museum, that had it appeared I was further from the wall than I was and I had to actually get up and walk to get to the item I needed to interact with no matter how many times I would adjust my view. Again, these should be able to be addressed and fixed in an update. The only other thing I would have loved to see is more floors to explore. The levels that we have offer plenty of variety, I just wanted more floors to experience. Who knows, maybe there will be a Floor Plan 3 in the future to complete the trifecta that triples the levels and puzzles.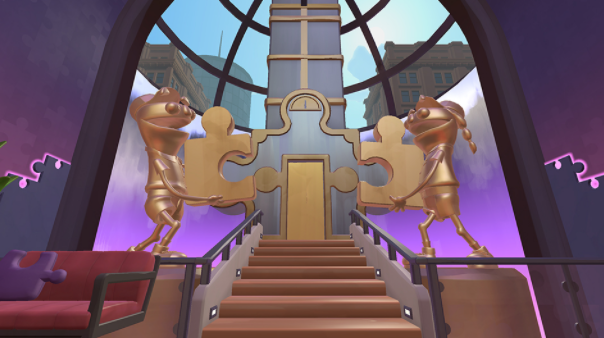 Floor Plan 2 improves on what did work and makes it so much better. It takes the fun of puzzle-solving and allows you to branch out and try and solve them while adding comedy to the mix. It shows us that things can be better in life if we just take the time to step out of our condiment and have some fun with it all if we all just take the time to do so.
Floor Plan 2 is out now for the Oculus Rift/Rift S and Oculus Quest/Quest 2 on the Oculus Store and on Steam, and will also be coming to PlayStation VR later on in 2021. A review code was provided.
To learn more about Turbo-Button, please visit the site, like them on Facebook, follow them on Twitter, and subscribe to their YouTube channel.
In case you missed the trailer, please enjoy. Until next time, I have some more Red Harrys to try and find.