When you dream, have you ever dreamt of a different world and at a different time? Do you ever somehow in some way able to have your mind wander to that place and it's like you are there seeing things within your own eyes, even though you are really here? So does Developer Highwire Games and Publisher Perp Games show us what it is like to become dreamers in our own right, to see things through something so familiar, even though it may seem like you are in a different place? Let's find out with Golem for the PlayStation VR.
For many who may not be aware, Golem was announced back in 2015 and with this being almost 2020, we are talking about four years before releasing. This is not necessarily a bad thing and sometimes delays and other situations may come up that we may not be aware of. But with all this time that has passed, there were rumors that Golem was going to keep being delayed or possibly canceled, and luckily for us, canceling did not happen.
But it was in 2017 when we got more news about Golem and how it was alive but surprisingly a prequel was released in the form of a soundtrack called Echoes of the First Dreamer (A Musical Prequel to Golem), and I knew from listening to that soundtrack that whenever Golem would actually release, it would be worth waiting for. Moving into 2019, Golem has released and brought the magic that we were first shown back in 2015 and finally allowing us to be introduced to Twine and this world.
You see Twine as adventurous as she is and as much as her older sister tries to protect her, she cannot stop being curious about a lot of things and as her curiosity keeps building. Her older sister Sky is the best scavenger in the city and there is a reason for this as she knows how to control Golems in order to search for items outside of the barrier that is surrounding the entire city. So by using a tool called the Dream Stone, Sky is able to open this bridge between the barrier that allows her to control a Golem and scavenge.
So before we get more into Golem, let's talk about the controls for a moment. You only use one Move controller or you can use a combination of a Move controller and a Dualshock 4 controller as the thumbstick on the DualShock would allow you to move. But thanks to a recent patch that Highwire Games added, you can use the Navigational controller along with the Move controller and this combination works amazingly well. This simple addition shows that the PlayStation VR would benefit greatly from the addition of thumbsticks. It is also worth mentioning that you turn by moving your head and there is no additional option from this. For me, I did not get nauseous at all and in fact, after just a little bit of playing Golem, it felt natural to me. That may not be the same for everyone, but I wanted to at least mention it.
When you first start out in Golem, you will notice that Twine is not the same since the accident which pretty much leaves her bedridden. But luckily, you have access to the Dream Stone and as things maybe, you are not controlling the biggest Golem out there, in fact, your first Golem is this little toy-like doll that you will control as you are on the search for something in the most unlikely place, under your bed. Yes, under your bed opens up to this bigger world that is full of insects and other things. So be careful as the insects are not really your friend and I will say, being in the underground and hearing the insects move, I stopped a few times just not knowing when they would come, but it was an excellent use of the sound that was being used for this effect. But it's when you finally see the bigger Golem and take control for the first time that helps you gather the magnitude of the size of these creatures.
Not everything is just moving from one place to the next (more on this in a few), there is narration as well as combat. When you are moving around, you will want to discover as much as possible as you will come across these blue lantern objects that once you interact with, will help reveal the story in the form of audio narrations that you are hearing from a family member that I did really enjoy as that was one of the parts that kept me engaged throughout my time with Golem. Another part that kept my interest, was the combat. When you come face to face with another Golem (usually much bigger), you will need to pay attention to the attacks that they do and block accordingly or it could be over for you. Some of the beginning battles start with a smaller number of attacks that will reveal a body part that you can attack while some other golems may be faster with a greater number of attacks. This is where your weapons come into play. You could have a sword or staff. If you try to attack before this happens, be prepared for the bigger Golems to block off your attack. But you can overcome the size depending on where you place your weapon. So if a Golem is swinging its weapon in the center, you will want to hold your weapon in the center to block that attack. Some Golems that attack at a faster pace, you will want to be aware of how they are attacking as it can come quickly. Just a little tip and don't forget you can move in order to continue the fight.
Any Golems you beat, you can collect their weapons as well as their masks. The masks are more like key cards per se that allows you to enter certain doors. This is where I get into a pain point of sorts that could cause frustration among some players. If you have a mask or a weapon and you lose that battle with a bigger Golem or want to back to the shop and customize your Golem, not only do you lose that item, but you also have to start back and then have to slowly travel to where you need to go. I understand if my weapon were to break and lose that, but losing a mask that is needed to open a gate made me really question and say "really" a couple of times. All is not lost as you will need to find the Golem again that has the mask and defeat it in order to regain the mask, as well as be on the lookout for any new or lost weapons, so that you may enter the door that you needed to enter before you lost the mask and hopefully survive your next battle.
The world is Golem is big and when I was playing I did end up going in circles a few times, that is until I started to pay attention to my surroundings. There are some red cloths that you should use for your direction, just be careful of any enemies that want to throw things at you, but those are easily defeated. There are a few things I would like to see added or addressed in an update. For one, is maybe not having the checkpoint so far away and maybe update it to different parts of the world. Yes, the world is big and full of detail, but if you have to repeat from the same spot, some players again may find that a little frustrating. The other thing I wish would be updated is not having to lose your items after a loss of a battle. Those masks I earned and I wish we can keep them or if nothing else, not to lose them if you go back to the shop to maybe change out a weapon of your Golem. But I do love how the Developer has made some updates to give us more options, such as the use of the Navigational controller and I am sure this will continue to make sure Golem is the experience everyone wants it to be.
Let's talk about the graphics and sound. Golem is big and beautiful from beginning to end. Just walking around and seeing sparkles in the ground or the way the sun casts the shadows on the trees and buildings of the city is really worth the view. The battle could have lost focus on certain parts of the detail, but they stayed intact and is something that should be appreciated. The sound is done equally beautifully here. Just hearing the wind in the air to the narration of the story being told to the music that plays really helps bring everything together just as I have hoped it would since the announcement back in 2015.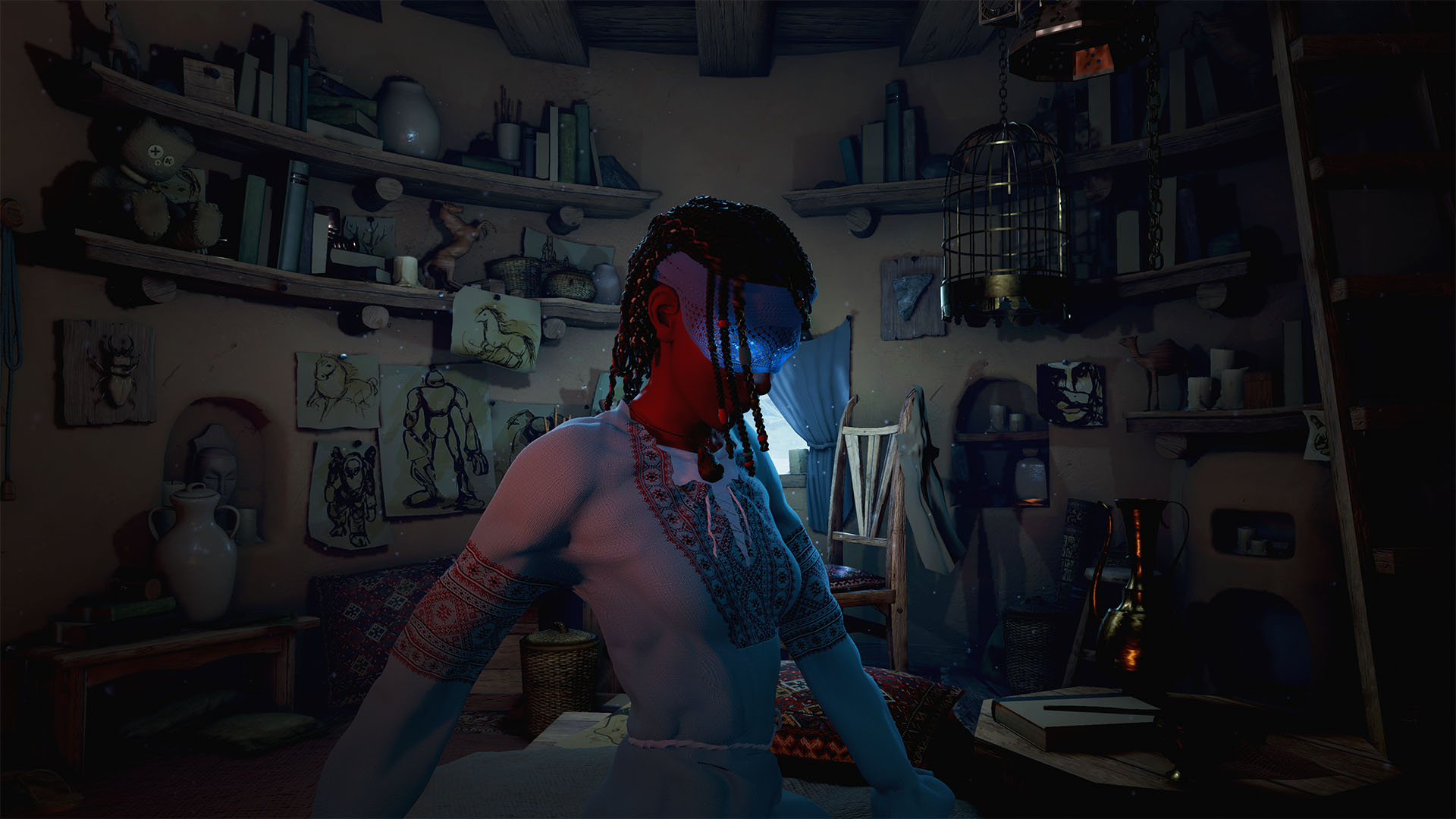 Golem shows us that with hard work and determination, we can strive for a better experience and also reminds us that life has risks that can be rewarded and that somethings are worth waiting for.
Golem is out now on PlayStation VR. A physical review copy was provided.
To learn more about Highwire Games, please visit their site, like them on Facebook, follow them on Twitter, and subscribe to their YouTube channel. To learn more about Perp Games, please visit their site, like them on Facebook, follow them on Twitter, follow them on Instagram, and subscribe to their YouTube channel.
Also, you can listen to the prequel to Golem, Echoes of the First Dreamer by Marty O'Donnell, you can listen to it on Spotify, Amazon, and Google Play, and also visit his site, like him on Facebook, and follow him on Twitter.
In case you missed the trailer, please enjoy. Until next time, I am going to go and enjoy some more beauty.