When you look at blocks, do you see think about what you would build? Maybe you would build a fort, a scene from your favorite movie or game, or possibly something no one has even thought of before. Do you ever find yourself getting a little frustrated because you know the block that is supposed to fit to add to your creation is just enough to not make things fall over, but no matter how many times you try, something always falls? Blocks can be fun and interesting, especially when you can look at them in new ways and create the way you want to. But does developer Devil Cow Studio and publisher Vertigo Games show us what it's like to bring blocks to the puzzle-platforming genre and allow us to craft our own paths? Let's find out with PathCraft for the Quest 2/Pro.
PathCraft is a VR puzzle-platformer where you play with blocks to complete increasingly complex puzzles that are easy to play, but increasingly hard to master. So before you go in placing blocks just anywhere, there are a few things that you should be aware of. First, there is no need to rush, so take your time. Second, find your favorite place to sit and relax. Might as well be as relaxed as you can before the complex puzzles have you sitting up a little straighter. Third, remembering. Remember when your friends used to think they were better at you when creating levels? Well, it will be your turn to show them who the true master is. More on this a little bit later. Fourth, make sure those controllers have enough juice as you don't want to fail because you forgot to check. And finally, just have some fun. With all that said…let's continue…
When you first start PathCraft, the first few things you will notice are the sound and the look. The sound just has this gentle calming feel that lets you know all is ok with you in the world at this moment. The look is this hand-crafted child-like world full of colors that easily put a smile on my face. But the game just really throws you on how things work. Reach out and grab a block and then place it to help complete the path. Once you complete the path, a scoreboard that is made out of cardboard comes up and shows you the number of moves it took to complete the level. As you can see, anyone can complete the very first of levels with only one move, but it takes a real puzzle solver to do it in three. Plus, you can always restart the level if want to.
Each level brings a more challenging level to it as different not-so-fun blocks, missing blocks in the path, and enemies are thrown into the mix making things chaotic at times. Keep in mind, you only have a certain number of blocks and when your character needs to cross a gap, you have to grab a block from a different part of the path and move it so the character does not fall or stack the blocks to get to a higher level, I am not going to lie, there may be a little frustration. But this is all good and fun, so remember that. And if you want to try for some extra fun, use hand-tracking. I really do love technology.
If you decide you want to change some things up, click on the Menu button and you will be transported into a bedroom where you have three choices. The first is just Play, which is what you have been doing thus far. There are Cosmetics where you can change your looks such as your pajamas and costumes if you want to mix things up a bit.
But what a lot of players will probably enjoy is the Editor Mode. Here, you can create your own levels and share them and try out other players' levels. So remember earlier how your friends thought that they were better than you at creating levels? This is your time to make the most difficult levels you can and let the world embrace your creativity as well as theirs.
Let's talk about the graphics and sound. As previously mentioned the hand-crafted style that really does look and feel like you are inside a child's imagination really comes through in VR. From the colors to just the simple details of using cardboard just like a child would use to make something come alive is a really nice and special touch. The sound compliments the looks perfectly. From the fun and easygoing to based on the background, such as a city, and hearing those sounds come alive around you shows the importance the developer used to make sure everything was as good as it could be.
There are just a few things I would love to see. First, more user-created levels. When I played there were some very interesting and thoughtful levels, but we all have an imagination and we should let it show. Second, more costume options. I think it would be fun if we could have some holiday items to use or even a way for players to create and share those items and just let things get as crazy as can be. And finally, more platforms. Right now, PathCraft is for the Quest 2/Pro. Just think if PathQuest was out on a platform t such as Steam VR, Viveport, and the very upcoming PlayStation VR2, the user-created levels would be even more amazing.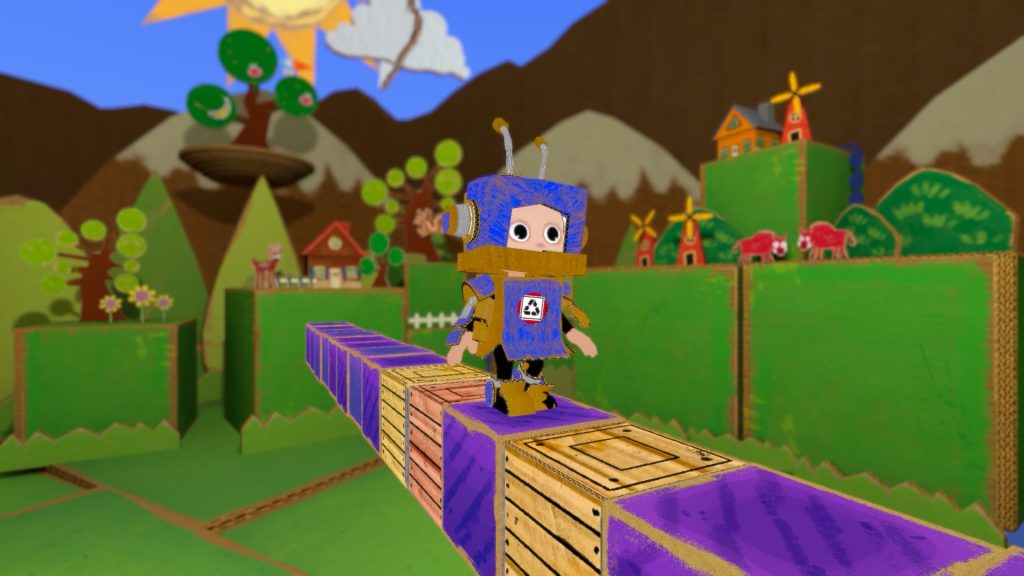 PathCraft brings the puzzle platforming genre and takes it to another level of play that really should be experienced. It allows seeing things from different angles and views that you can't really experience other than in VR. Life always presents itself in ways that we may not be able to explain. Sure, we can be told what's going on and see what's going on, but if we can take the time to look at things from the angles and views of others, we all might be in a better place in the world. And couldn't we all do a little better?
PathCraft is out now for the Quest 2/Pro on the Oculus Store. A review code was provided.
To learn more about Devil Cow Studios, please like them on Facebook and follow them on Twitter.
To learn more about Vertigo Games, please visit their site and make sure you like them on Facebook, follow them on Twitter, and subscribe to their YouTube channel. 
In case you missed the trailer, please enjoy. Until next time, I need to create some levels.