There is something about our daily lives that just seem to be busy whether we would like it to be or not. Sometimes it is work, sometimes it is family, and sometimes it's the combination. Sometimes just trying to find some time for yourself and maybe some friends can be difficult when it really shouldn't be. We all try and find ways to deal with our schedules of life and sometimes we manage, but then there are days that we don't know what to do and our lives become more challenging. But does Developer Starcade Arcade allow us to take a casual break and just have some fun? Let's find out with Space Slurpies for PCVR.
Space Slurpies is a VR game where you control luminescent snakes that grow in length and size as you try to collect as much food as possible and try to survive each round without colliding with your own snake or other players. So before you go in and try to start slurping your way to the top, take a little bit of time and listen to the instructions from Orbit. to really give us in detail, of how to play the game.
So as you can see the instructions are so simple. Just move your hand and the Slurp will follow, eat the edibles so your Slurp can grow, avoid hitting yourself or other Slurps, avoid Jazzeroids or any other enemies that may appear, and hopefully you don't everything for granted and try to get three stars and survive. Pretty simple right? No, it really is that simple and that's a good thing. Not everything in life needs to be a challenge, so it's good to have some simplicity in life.
So as you see, you only control one Slurp, so that means you will only need one controller. Since we have the very basic instructions of how to play, you will want to go into settings and go and select your primary hand, the volume levels that best suit you, your favorite language, and if you have any friends that want to play, you can select them from here. Now, that you have that all setup, it's time to click on Customize so you can add some primary and secondary colors to your Slurp.
When you have everything as you would like it, it's time to jump into Space Slurpies. I would recommend going the route of the Slurp Solo option just so you can get a feel of it all. I will say this about when you first start the first level and all the levels to follow, do not sit. There are edibles all over the place, so you will want to make sure you have a little room as the edibles are above, below, to the sides, in front, just really all around you. And seeing the area that is used and controlling your Slurp, Starcade Arcade made really good use of the 3D space. It's like if you have ever drawn anything in VR and have that sense of the space around you, it's like that. So as mentioned by Orbit, things are really simple. Move your Slurp with your hand to eat the edibles that will disappear as you eat them (they will reappear) and try not to have your Slurp hit your own body, much less any other Slurps that are trying to eat those edibles and doing this while trying to avoid any enemies.
You will also see that you will need a certain amount of stars in order to unlock the different levels. If you can get three stars, you can unlock the Shroomy Shrooms level, five stars will unlock Sapphire Sea, and so on. So far, I think the Cafe Chill might be my favorite level.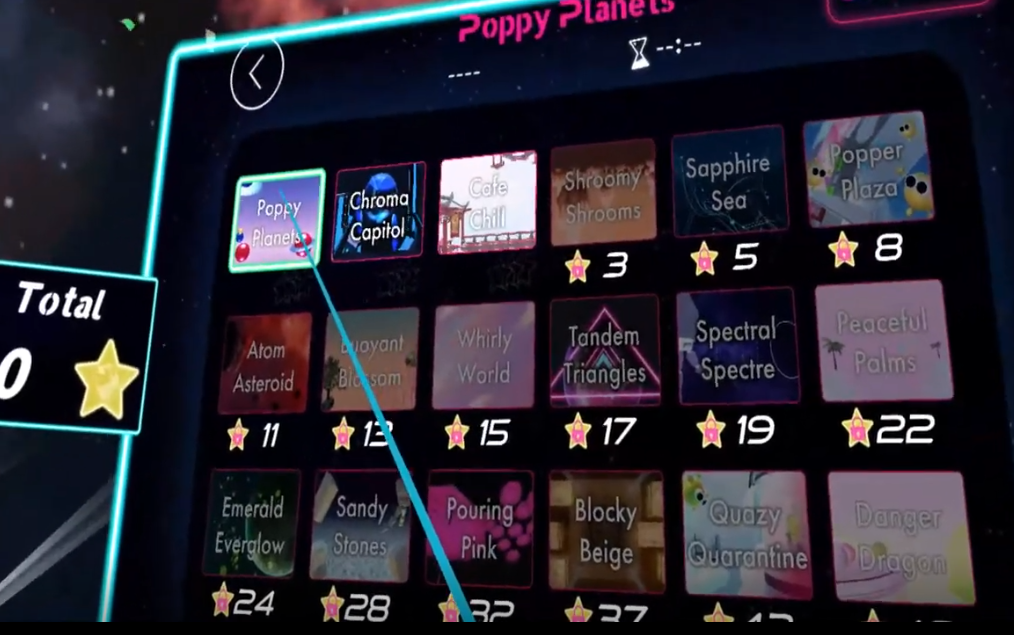 After each level, you get to see your name on the leaderboards to see how well you did against others. It is pretty fun seeing someone you recognize and at first, seeing how they beat your score, but to try again and then become the one on top just has that sweet Victory, but really is all in good fun.
Of course, Space Slurpies is probably best played with others. At the time of the writing of this review, I was not able to play with others. I was able to select 'Slurp Online' and, but again, at the time, no one was on, so bots were added to the mix. This will surely change once the game officially releases and I do plan on coming back a lot not only to have the fun but to be able to try and talk with others while we all try and concentrate on our Slurps not hitting each other or ourselves.
Let's talk about the graphics and sound. Graphically the game is very nice on the eyes and the colors of the levels and different Slurps are vibrant. I do like the theming of each level as it does give each one its own personality and substance. Sound wise, Starship Arcade has always tried to make the music important factor of each experience they provide and here in Space Slurpies the sound and music help bring the fun to the game.
If there is anything I would like to see added to the game. For one, more levels down the line. As long as the game catches on as it should, there should be more levels that I cannot wait to try. I think it would be great if there could be a user-created tool that will let users create their own levels and name them and have other players vote to see which one stays on a weekly rotation. Since I could not really experience the multiplayer aspect of the game, this is something I am most looking forward to when the game launches.
Space Slurpies is what it sets out to do, to provide a fun and casual gaming experience that anyone can play without becoming something it's not. It shows us that sometimes the more simple things can some times have a better outcome not only for our own peace of mind, but for our soul as well. And in times when we may get too busy for our own personal life, isn't it nice to take a break and just unwind a little?
Space Slurpies is coming to Steam, the Oculus Store on April 8, 2021 and to Viveport on April 15, 2021.
To learn more about Starcade Arcade, please visit their site, like them on Facebook, follow them on Twitter, follow them on Instagram, follow them on Twitch, join their Discord, and subscribe to their YouTube Channel.
Also, check out the Space Slurpies interview.
In case you missed the trailer, please enjoy.