Parkour. The word alone brings the ability to move through complex environments to a new level. The way one moves while using what is all around you as almost like stepping stones with such speed and discipline really is amazing. The challenges that one would face not just physically, but mentally as well not only for themselves but for the feeling of being alive for some. But does developer Joy Way bring the idea, the concept of Parkour into Virtual Reality and allow us to experience the thrill? Let's find out with STRIDE for PCVR and also coming to PlayStation VR soon.
STRIDE is a high-octane parkour adventure in virtual reality. You will be fighting for your life as you hurtle through the rooftops of a futuristic metropolis. Stepping into the shoes of a master freerunner as you vault, swing, roll, and shoot your way through this intense, action-packed adventure that will have you moving your arms and hopes that you can land that jump and keep going without the need of looking back. So before we really get into everything, there are going to be a few things that you will want to do. First, have your controllers charged. You do not want to be moving your arms only to have one or both controllers be non-responsive because you forgot to check the battery levels before playing (yes, it happened, and no, it was not a good time for me). Second, you will want to make sure that you stand and not sit. Even though it is possible to play sitting if you have the right chair, you will be swinging your arms and grabbing, so you really do not want to hit anything or anyone around you. And third, just get ready to have some fun.
When you first start STRIDE you will see a menu that will give you the options of the four different modes. Story (which is not available yet, but is coming), Endless, Time Run, and Arena. But at the bottom, you have the options for Tutorials and Settings. As with anything, the best thing to not do in STRIDE is jump right in. I say this because you will want to go through the tutorial and you will want to pay attention to see the mechanics of running, sliding, jumping, and shooting. So even though standing is the best option, you will also want to make sure you have some room as not only will there be arm movement, but also somebody's movement as well. The basics of the training are here. You walk with the left analog stick, run by moving your arms like you are running, jumping has you bringing your arms up, wall jumping has you running along the wall and jumping at the right moment, to slide you will need to run and then squat down as well as being able to pull your weapon from your side, reloading, firing, and even dodging enemy fire. I will say, that it will take a little bit to get used to everything, but once you do get the hang of it all, get ready.
Let's look at the different modes within the game. Each of the different modes has leaderboards that you want to try and climb of course, but also they different modifiers such as no health packs or enemies to add some twists to your run.
Endless Mode will have you running with endless mode generation. But don't stop, as a black wall will follow you so you want to make sure you keep ahead of that. You also have enemies that will fire and try to stop you. So this is where you need to have your skills up and your aim perfected as you only have three lives.
In Time Run Mode, you have to race against the clock and try to reach the finish in the best possible time and each level is the same for everyone so that everyone has a fair chance to compete.
And then in Arena Mode, it's the world is at your disposal as you are trying to reach checkpoints and collecting items with waves of enemies and is really a perfect place for you to practice those tricks and taking out those enemies.
When looking at the graphics, STRIDE has some very nice detail from the city that you are running on top of, on the sides, and any way else you can to keep going. Passing by the enemies looks very well done and the Joy Way added the extra details like the Santa hats to the enemies which I can't wait to see what other holiday aspects can be added. Sound-wise, everything sounded good. Hearing the gunshots shoot even at times when you may not have meant to shoot it which can and will happen sounded good. The music had the right sounding feel for the game and was not too loud to become a distraction with all the other things happening within the game.
There are some things that I would love to see added. For one, the option of more control schemes. Yes, it can be fun swinging your arms and throwing them up in the air as you take that jump and then pulling out your weapon to perform that awesome trick. But what about an option for those that may want to sit or may have physical limitations of certain movements. Adding the ability to hold down the left analog stick or another button to run, jump, grasp, and use the weapon would be an added benefit. Not saying that what is in place now does not work, it does. But it will be interesting to see when the PlayStation VR version comes out and the use of the Move controllers that do not have the analog sticks as PCVR does. Second, would be the ability to add different height adjustments to even having the option if one wanted to play sitting down. Just the more options there are, the better. And last, I know that this would be far-fetched, but what about the ability since there are leaderboards, for the ability to create our own levels and having others try what others created? Just a thought as those would be some impressive leaderboards to try to get on.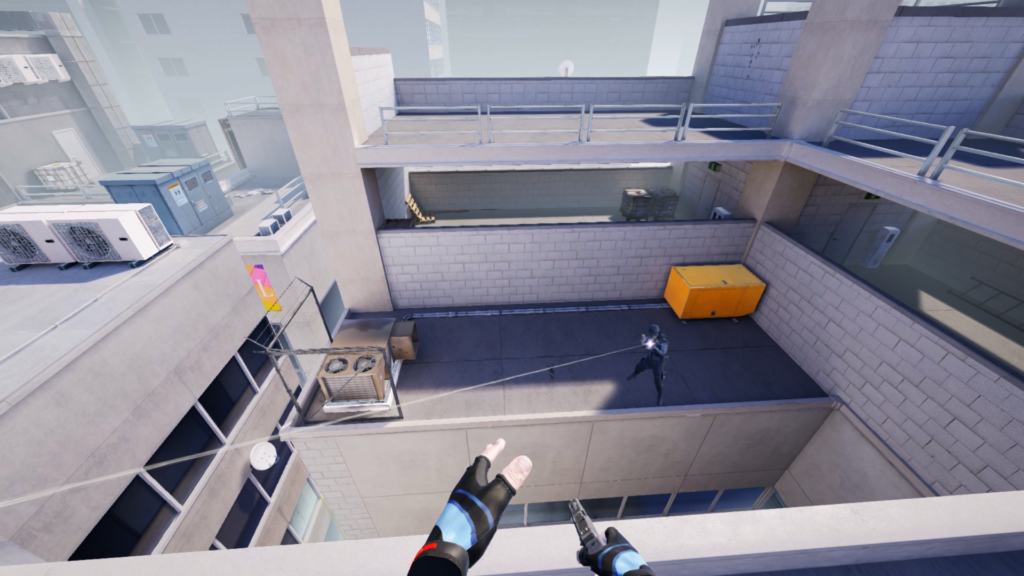 STRIDE gives us the action of parkour with the replayability to keep trying harder. In life, we get hit with so many roadblocks that it can see that the more we try to run from them, the more can appear. But sometimes, if we just take a minute to think about what is trying to stop us, maybe we take our problems head-on and race towards that bigger goal in life.
STRIDE is out now on Steam and Viveport and will be coming to Oculus Quest/Quest 2 on the Oculus Store on August 5, 2021, and coming to PlayStation VR.
To learn more about Joy Way, please visit their site, like them on Facebook, follow them on Twitter, join them on Reddit, join them on Discord, and subscribe to their YouTube channel.
Also, check out the STRIDE interview.
In case you missed the trailer, please enjoy. Until next time, I need to keep practicing my runs and climb those leaderboards as I wait for the story mode to come in.